Augmented Reality for Furniture Industry: Make Your Customers Go Wow
Anastasiya Tolocka
·
10 minute read
In the fast-paced world of online furniture shopping, it's essential to have a website that stands out from the crowd. But simply slapping some product photos and 3D views on your site won't cut it anymore. Buyers want something more engaging and interactive.
Despite augmented technology's popularity in the furniture industry (where it reigns supreme as the leading AR category), many business people still lack knowledge or have reservations about implementing such technology. To address this gap, we have put together this article designed explicitly for furniture retailers.
This article explains what augmented reality is, why it's essential for the furniture industry, how businesses can benefit from it, and other important topics. By the end of this article, furniture retailers will have a better understanding of how AR can help them improve the customer experience, increase sales, and stay ahead of the competition in the furniture market.
So, grab a cup of coffee, get comfy, and let's dive into the exciting world of augmented reality within the furniture industry!
Augmented Reality in the Furniture Industry: What Is It?
Augmented reality is a technology that blends digital content (such as images, videos, or 3D models) with the real world, thereby allowing users to see virtual objects in the real environment. Typically, this is achieved by using a camera-equipped device such as a smartphone, tablet, or headset.
To illustrate furniture augmented reality, let's say a customer wants to buy a new sofa. Using an AR app, they can see a 3D model of the sofa superimposed on a live camera view of their living room. They can move the virtual sofa around and see how it fits with their existing furniture and decor.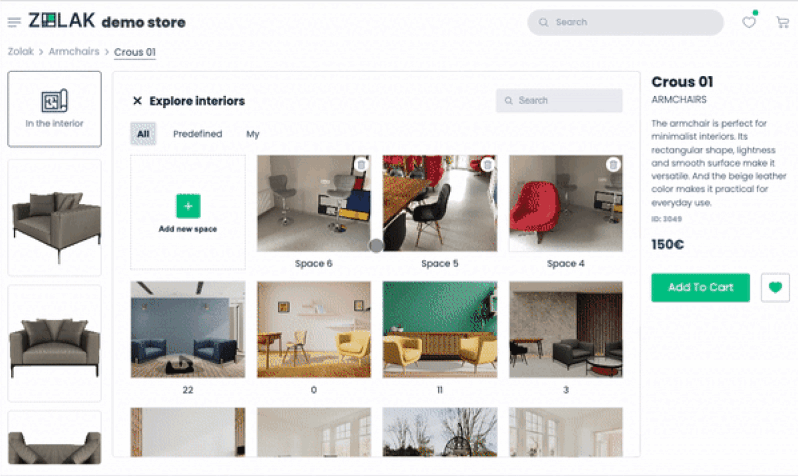 How are Businesses Implementing Augmented Reality? WebAR vs. AppAR
As mentioned earlier, to use AR, users require a camera-equipped device. However, they also need an AR-enabled app or browser in addition to the device.
Regarding implementing augmented reality in the furniture industry, there are two main approaches: WebAR and AppAR.
WebAR is an augmented reality experience that can be accessed through a web browser. Customers don't need to download a separate app to access the AR feature. WebAR is convenient for customers as they can easily access it through a website, and it also eliminates the need for retailers to invest in a separate app.
AppAR, on the other hand, requires customers to download and install a dedicated app to access the augmented reality feature. The use of an app allows for the integration of more complex functionalities. In addition, animations, interactivity, graphics quality, and the performance itself would be better. However, this approach also involves creating and updating a dedicated app, which can be costly. Plus, customers may not be willing to download yet another app so adoption rates may be lower.
Both WebAR and AppAR have their own advantages and disadvantages. It all depends on what you want to achieve as a retailer.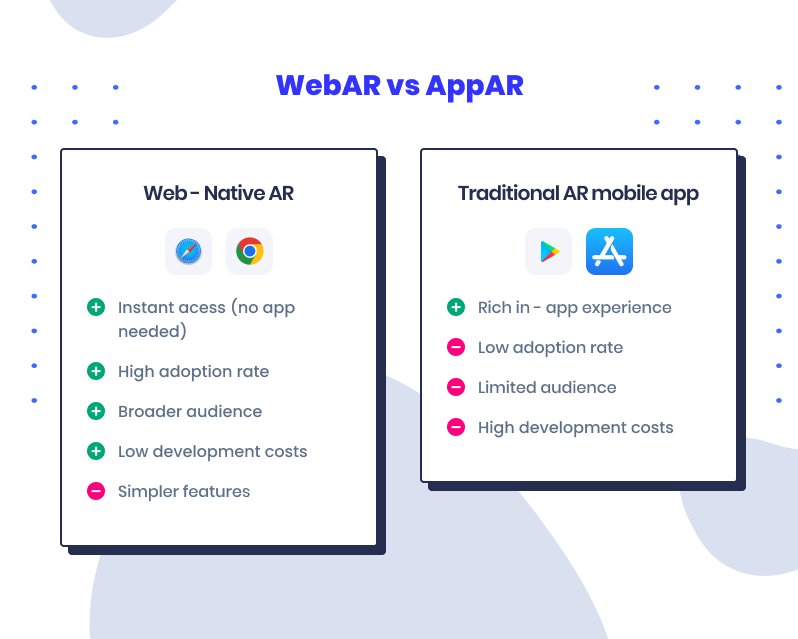 Augmented Reality Furniture: How Does AR Technology Work?
In the previous sections, we discussed the basics of augmented reality (AR) and how retailers can implement this technology to enhance their customers' shopping experience. Now, let's dive deeper into how augmented reality works.
There are two common types of augmented reality: marker-based and markerless.
Marker-based AR uses a physical marker (like a QR code) that customers can place on the floor where they want the furniture to go. Then, they scan the marker using their smartphone or tablet, and the app superimposes the furniture onto the marker.
This is an excellent approach for providing additional information about your product or furniture assembly instructions.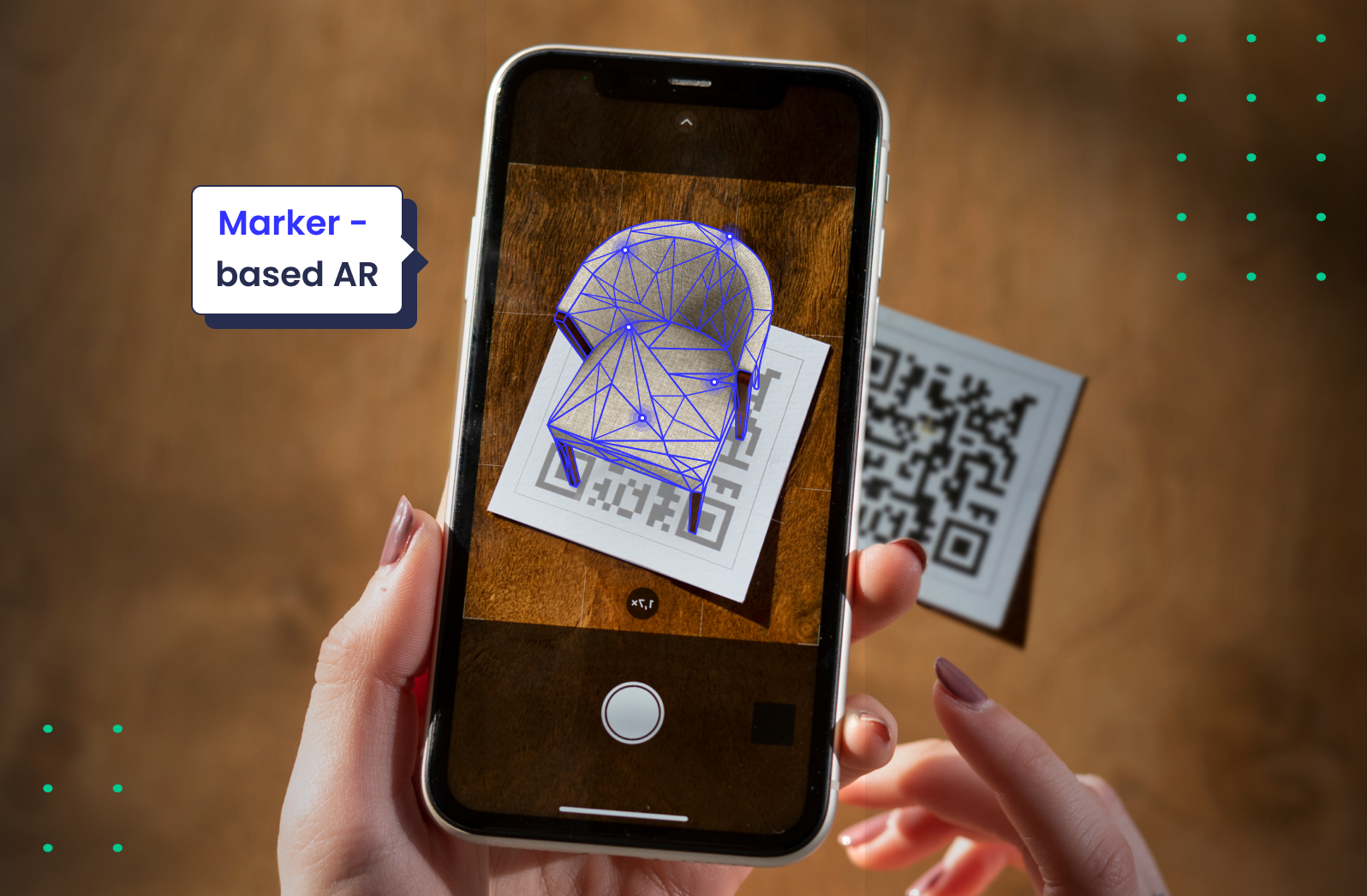 Contrarily, markerless AR doesn't require a physical marker. Instead, it uses the actual properties of the surrounding environment to place virtual 3D objects in the real world. This means that customers can place a digital sofa in their living room making it appear as though it's really there.
For instance, the app used for arranging furniture in a room automatically evaluates various factors such as room size, existing furniture, wall and floor positions, and other aspects. Once the evaluation is complete, the algorithms know precisely how and where a new piece of furniture can be fitted.
Markerless AR allows for more freedom and flexibility regarding the objects and surfaces that can be tracked but may be less accurate and stable in complex or dynamic environments.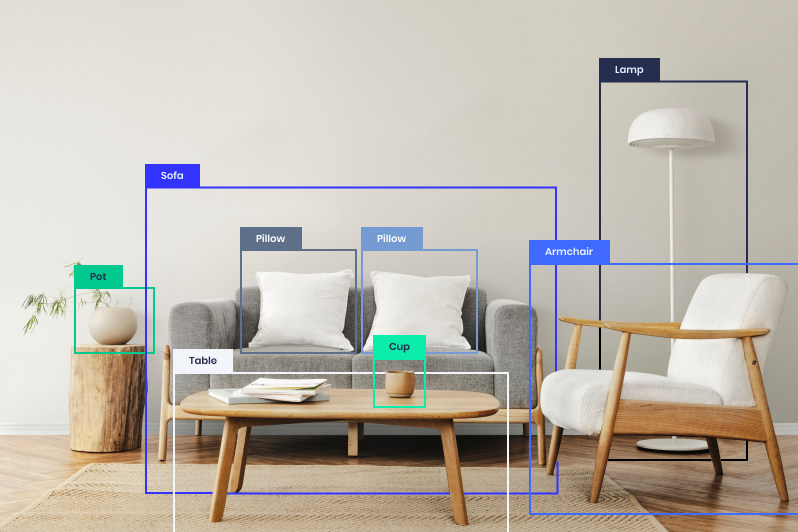 Why Is Augmented Reality Essential for the Furniture Industry?
I know what you're thinking. "Why should I care about augmented reality in furniture? It all sounds complicated and expensive." Well, here are four main advantages of why AR furniture apps are essential for your industry.
Cost Savings. According to Goldman Sachs estimates, the use of AR in the furniture industry is expected to result in cost savings of over $1.6 billion by 2025.
Reduced Returns.

A study by DigitalBridge found that 39% of consumers would be less likely to return a product if they could visualize it in AR before making the purchase.

Increased Sales.

According to a study by Retail Perceptions, 40% of customers would be willing to pay more for a product if they could experience it through AR.

Improved Customer Experience.

According to a survey conducted by Unity Technologies, 63% of customers prefer to shop from retailers that offer AR experiences, and 35% are willing to spend more money on products when they can visualize them in AR.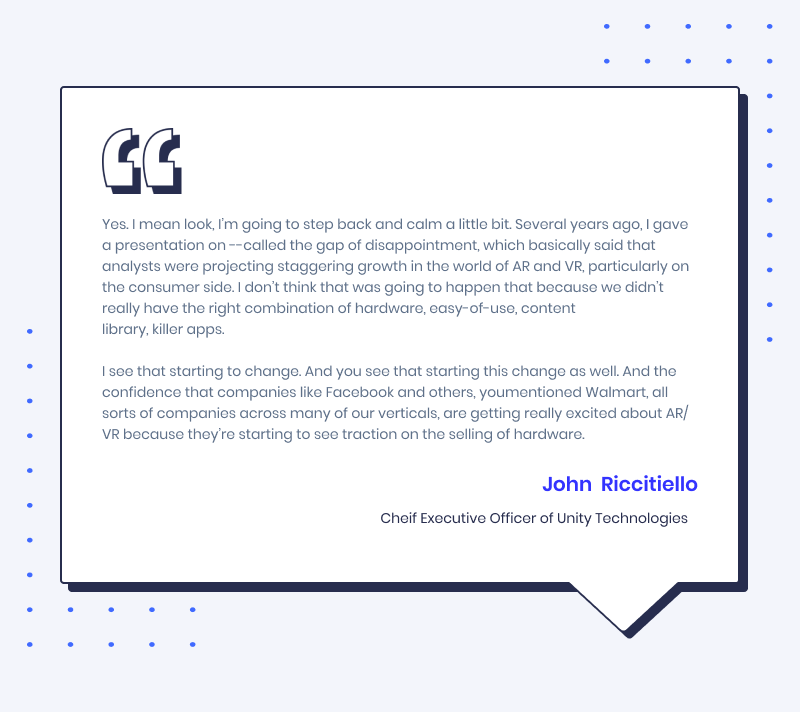 So, there you have it. Shopping for furniture in augmented reality is no longer a thing of the future. It's here, and it's making waves in the furniture industry.
How Can the Furniture Businesses Benefit From AR?
If you want to achieve the results we discussed above - the ones that'll save you money, reduce returns, increase sales, and improve customer experience - then it's time to jump on the six ways you can benefit from AR technologies.
Let Customers Try Before They Buy
One of the most difficult aspects of purchasing anything online is imagining what the product will look like in real life.
While returning a shirt is reasonably simple, returning a dining room table that didn't fit is a more complex process. As a result, clients frequently have doubts while purchasing products online and find it difficult to make more informed decisions.
Augmented reality for furniture shopping allows customers to "try out" furniture before they buy. With augmented reality, they can see how a dining table set will look in their living room before purchasing. They can rapidly answer the questions: what size this furniture is, what color it is, and whether it will match the rest of the furniture in the room.
Bring Your Furniture Showroom to Prospective Customers' Homes
The use of AR technology is proving to be a smart move for furniture brands looking to expand their customer base and keep existing customers coming back for more.
Augmented reality allows retailers to take their showrooms to prospective customers' homes, which can be particularly useful for those who don't have the time, possibilities, or inclination to visit physical stores.
Engage Customers with AR Furniture Shopping
As a furniture retailer, you're always looking for ways to inspire your customers and keep them engaged. You can bring it to them by using pre-made AR interiors, which customers can interact with through your website.
They can change colors and materials, and experiment with different combinations until they find the perfect match. Not only does this make the decision-making process more enjoyable, but it also unleashes their creative side. Plus, sharing their creations on social media is a win-win situation. They get to show off their design skills, and you get free advertising.
Moreover, AR apps can also showcase furniture items your customers might have overlooked or not considered.
Influence Your Customers' Purchase Decisions
Recent marketing research indicates that 40% of shoppers are willing to pay more for a product if they have an AR option available. Furthermore, 72% of shoppers said they ended up buying furniture they hadn't planned on just because they could try it out using an augmented reality app.
The reason for this is simple. Augmented reality takes the guesswork out of online furniture shopping. AR furniture apps allow shoppers to see photorealistic 3D furniture models in their own rooms. This way, shoppers can ensure that the furniture they're interested in matches their interior design style and ambiance. With just a few clicks, they can create their dream room.
Provide Personalized Experience
According to recent research, 77% of shoppers want to use augmented reality to see product differences, such as a change in color or style.
One of the key benefits of using augmented reality in the furniture industry is the ability to customize products.
With a furniture AR app, customers can browse the entire catalog, play around with design options, examine the item from different angles, and see if it fits in their room. They can also customize the product in terms of colors and textures and instantly visualize how it works with their interior. This level of personalization is simply incomparable to both traditional offline and online furniture shopping.
Stand Out with AR for Furniture Industry
It might surprise you to learn that despite the apparent advantages of AR and the wow factor it creates, only 1% of retailers use it, and 63% are either adopting the technology or considering it in the next two years. Yes, you read that right.
Most manufacturers and retailers claim they're not yet ready to implement augmented reality in furniture. But here's the thing: Companies that use AR furniture apps get more attention from the audience and establish a reputation as advanced brands. They integrate AR into their business and get a chance to outshine competitors who use traditional ways of selling furniture.
What does this mean for you? Not only will you impress your customers, but you'll also stand out among your competitors as a forward-thinking and innovative brand.
Augmented Reality Use Cases in The Furniture Industry
From virtual product placement to personalized design options, AR has opened up a world of possibilities for furniture retailers.
AR Integration
Augmented reality integration is the most common use case of augmented reality in the furniture industry.
By integrating AR into furniture shopping, customers can virtually place furniture in their homes and see how it looks before purchasing. They can even change colors and materials and see how the piece will look in different lighting conditions. It's like having a personal showroom right in their living room.
AR integration has many benefits for the furniture industry. It allows customers to better understand the size, shape, and color of the furniture they are considering, making it easier for them to make a purchase decision. It also reduces the number of returns, as customers are less likely to purchase furniture that does not fit in their space.
AR Sales Advice
AR sales advice uses augmented reality technology to help customers make informed decisions about their furniture purchases.
AR sales advice can be achieved through mobile apps or in-store AR devices.
Customers can use an AR app to place virtual furniture in their homes using their smartphone cameras. The app will suggest furniture that fits their style and dimensions. This is especially helpful for customers who may not have a clear idea of what they're looking for or need help visualizing how furniture will fit into their space.
In-store AR devices can inform customers about the features and benefits of different furniture pieces. Furthermore, customers can learn about the materials and dimensions and see how the furniture will look in their homes.
AR sales advice has many benefits for the furniture industry. It allows retailers to provide more personalized and informed sales advice to customers. It also reduces the time sales associates need to spend with each customer, as they can use the AR to learn about the furniture themselves.
AR Advertising
To take your advertising to the next level, consider incorporating AR technology into your marketing strategy.
One of the ways to use furniture AR in advertising is through marker-based AR. Marker-based AR involves using printed images, such as a magazine ad, as a marker to trigger an AR experience.
In the furniture industry, marker-based AR can be used to provide customers with the following:
A virtual experience of the product before they make a purchase. Customers can aim their smartphones or tablet at an advertisement with a marker, and the AR technology will display a 3D model of the furniture overlaid on top of the real world.

Additional information about the furniture's features and benefits. For example, a customer can use marker-based AR to see how a sofa can be transformed into a bed or how a recliner works. This information can help customers make more informed decisions about their purchases and increase their satisfaction with the product.

With engagement. For example, retailers can create scavenger hunts or quizzes using marker-based AR technology, which encourages customers to explore the products in a fun and interactive way.
AR in Customer Support
One of furniture retailers' primary concerns is providing customers with adequate instructions for assembling furniture. The traditional approach to this has been through printed manuals and diagrams, which can be confusing and time-consuming to follow.
With AR technology, furniture retailers can offer their customers a more interactive and engaging experience, ultimately leading to faster and more accurate assembly.
AR-enabled instructions use computer-generated visuals to guide customers through the process of assembling furniture. Customers can view the instructions on their smartphones or tablets, and the AR system will overlay digital instructions over real-world furniture components.

Moreover, AR-enabled instructions can reduce the number of returns due to assembly issues. Customers who struggle with assembling furniture often return the product or ask for assistance, which can be costly for the retailer.
Top 4 Examples of Augmented Reality in Furniture
Let's take a closer look at the elite 1% of companies that have already implemented augmented reality. These groundbreakers have recognized the value of AR in the furniture industry and have taken their businesses to new heights.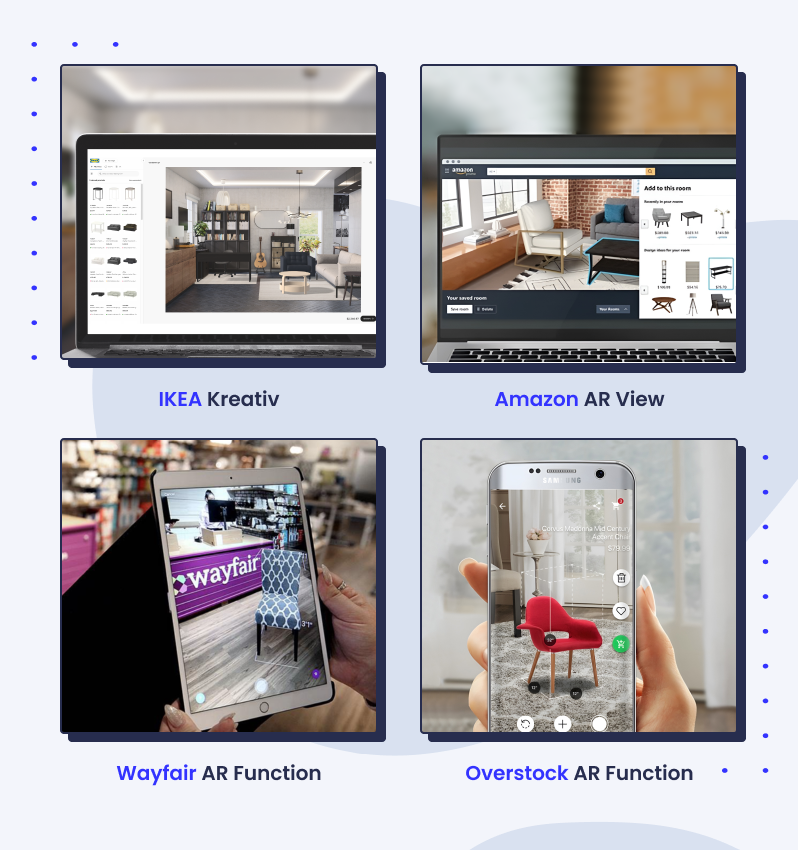 IKEA Place and IKEA Kreativ. These guys are leading the way when it comes to augmented reality for furniture shopping. IKEA Place lets customers use their mobile device's camera to scan their living room and see how IKEA furniture fits in before purchasing. With IKEA Kreativ, on the other hand, customers can unleash their inner interior designer and create a virtual 3D replica of their room, complete with IKEA furniture and decor. They can move things around, resize objects, and even view products in different lighting conditions.

Amazon's Room Decorator is integrated with the Amazon Shopping app, allowing customers to virtually decorate their homes with furniture and home improvement products from Amazon and third-party sellers.

Wayfair app creates a more realistic and immersive experience for customers. The app allows virtual objects to cast shadows and blend into surroundings, making the furniture appear more lifelike and seamlessly integrated into the user's physical space. The app also supports multiple planes so that customers can position objects on surfaces like walls, tables, and ceilings.

With Overstock, customers can use the AR app to take measurements of their room and ensure that the furniture will fit properly. This feature eliminates the need for customers to physically measure their space, making the shopping experience more convenient.
Conclusion
Augmented reality is already revolutionizing the e-commerce buying journey from the awareness of the product to its purchase.
In addition to the many benefits of AR technology for furniture businesses, solutions are available that can make integrating AR into a retailer's website easier than ever before. One such solution is Zolak.tech, which offers AR and VR products that can be incorporated into a store's website to enhance the customer experience.
The most recent advances in AR offer numerous opportunities for furniture companies: from creating memorable customer experiences to gathering real-time consumer data and effectively leveraging it to increase profitability. Don't wait any longer; join the augmented reality revolution and advance your furniture business.
FAQ
What Is Augmented Reality Furniture?

Augmented Reality furniture is a revolutionary technology enabling users to view virtual furniture in their homes. AR furniture apps use the device's camera and sensors to create a virtual representation of the room, which can then be used to virtually place computer-generated 3D furniture models and home decor items in the space.
What Is the Use of Augmented Reality in the Furniture Industry?

AR technology has many use cases in the furniture industry ranging from AR integration to AR sales advice and advertising.
Does IKEA Use Augmented Reality?

Yes. The Swedish furniture company has AR furniture apps - IKEA Place and IKEA Kreativ. IKEA Place allows users to digitally place IKEA products in their living space to see how they would look in real time. On the other hand, IKEA Kreativ enables consumers to completely rearrange their rooms by diminishing their existing furniture and replacing it with virtual IKEA furniture.
What Is the Difference Between AR and VR?

Virtual Reality (VR) is a fully immersive experience that transports the user to a virtual environment that feels like a completely different world. Users wear a VR headset that blocks out the real world and replaces it with a simulated one. This allows users to interact with the virtual environment and objects within it.

Augmented Reality (AR), on the other hand, overlays virtual objects on top of the real world. It uses a camera and a display, typically on a smartphone or tablet, to project computer-generated images into the real world. This allows users to see and interact with virtual objects in the context of the real world.