How AR Helped Pinterest Increase Furniture Sales Conversion by 5x
Anastasiya Talochka
·
3 minute read
In early 2022, Pinterest launched a new "Try-On For Home Decor" feature, allowing users to try on furnishings from US merchants, such as Walmart and Wayfair, in their own homes simply by using augmented reality.
Why Pinterest Decided to Implement "Try-On for Home Decor" Feature?
As social commerce grows, platforms are extending options for merchants to get their products in front of customers' eyes. An example of this is the evolution of Pinterest.
Since its establishment in 2010, the platform has been regarded as a place where millions of people come together to search for inspiration in everything ranging from food and clothes to furniture and weddings.
Now, the company is in the process of providing retailers with more of what they've asked for—ways to sell around people when they're in planning mode.
In the past few years, Pinterest advances have been toward a more shoppable experience for its users, allowing them to buy things they like directly from the platform.
One of the recent steps in this direction was introducing the "Try-on for home decor" feature, which allows users to try on furniture in their homes with the help of AR.
Here are a few reasons why they decided to adopt this new feature:
1. Unlike other social media platforms, Pinterest has always been described as a "visual inspiration platform." This means that users searching Pinterest's vast content look for inspiration rather than social updates.
"When you come to Pinterest, you're looking for something; you're in planning mode; you're going to plan for your wedding; you're going to plan a redesign of your kitchen, bathroom, etc. That's why [AR] shopping is so important on the platform."
- Jeremy Jankowski, Creator Management Lead for Home and Design for Pinterest.
Since the ideas that individuals come across on Pinterest often involves purchasable things, the platform's purchasing and ad functions are considerably more interwoven than on other social media networks.
Branded advertisements and shoppable features enable users to purchase items directly on Pinterest, thereby improving the user experience rather than being perceived as an annoying distraction or interruption.
2. The company's Lens function demonstrates customers' growing comfort with AR technology. With its help, users can point their phones' camera at any object in front of them and get results for similar images or products.
In 2021, lens searches surged by 126% each year, as did the amount of people using the platform's shopping capabilities. The use of try-on beauty tools by millennials and Gen Z's also increased by 33% and 28% respectively.
3. In a broader sense, Pinterest's functionality corresponds with the global consumer trend, as 40% of customers worldwide have increased mobile purchases since the pandemic. As a result, 46% say they would never go shopping without their phone. This number is considerably higher among Generation Z and millennials - 50%.
How It Works?
Here's how the "Try-on for home decor" feature works:
Imagine that you decided to buy a couch for your guest room. To look for interesting options, you search the Pinterest app.

While searching for products on Pinterest, you see "pins," which are cards with content (i.e., product cards). Some of them contain prices, which means you can easily buy this product by going to the merchant's website in one click.
For your convenience, you can switch tabs from "Explore" to "Shop," where you'll see only shoppable pins. Over 80,000 shoppable Pins are already available in the app.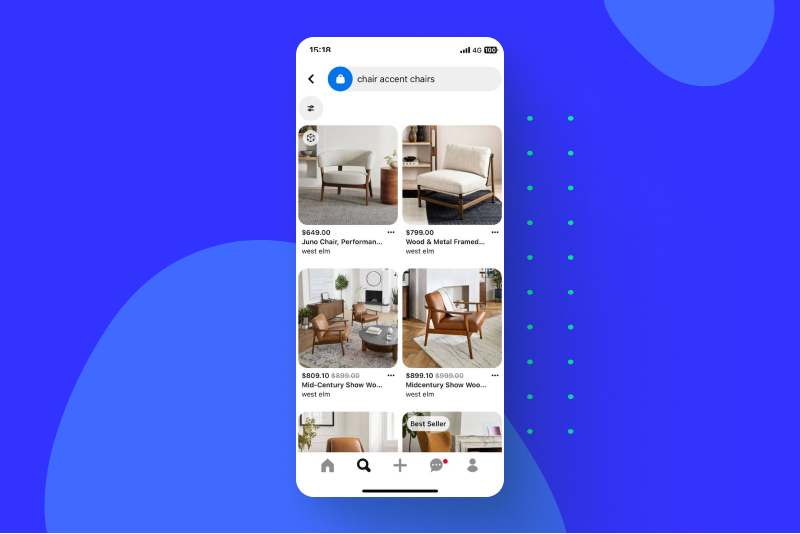 After clicking the Pin you like, you'll find more information about the product, such as the price and dimensions.
Some Pins with furniture will contain a "Try in your space" option, with the help of which you can view the product in your space.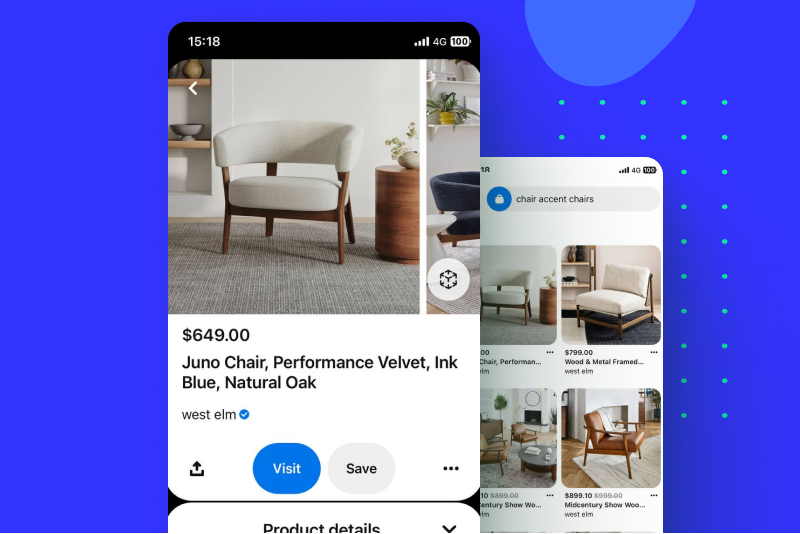 By clicking the "Try in your space" button, you'll be able to see the product in your space and rotate it.

Finally, if you like the product, you can purchase it by clicking the "visit" button, which will take you to the retailer's website's checkout page.
What Are the Initial Implementation Outcomes?
According to internal Pinterest data, 90% of users visit the platform for inspiration in their home decor shopping process; therefore, seeing what certain items would look like in their home before buying might be a game changer for the app.
The AR Try-on function is the platform's most recent addition to its e-commerce offering, and it has already proven effective in converting undecided shoppers into customers.
According to Pinterest, tests on the new technology have revealed that shoppers are five times more likely to buy a product with the AR "Try On" feature than those represented by standard pins.
The "Try-on for Home Decor" feature was introduced at the beginning of 2022 and has already secured important merchants for the new augmented reality technology, including Crate & Barrel, CB2, Target, Walmart, Wayfair, and West Elm.
The feature is currently available in the United States for both iOS and Android, but it will soon be available worldwide.
Summary
AR shopping generally has received positive reviews, with over 100 million individuals regularly shopping with augmented reality, and 60% of them reporting they commonly use the option to settle purchase decisions.
Customers nowadays have been looking for new ways to verify their purchases, given the surge in online purchasing during the continuing pandemic. Thus, accurate and realistic AR renderings can be a wonderful way to get a better idea of a product before clicking "Accept."
As in the case of Pinterest, this shows how other businesses can utilize this technology to reduce customer doubts and grow furniture goods sales.