Retail is detail: How 3D Commerce is Turning Heads and Boosting Sales
Anastasiya Tolocka
·
15 minute read
We live in a world that's all about visuals. Our brains are wired to process information through our eyes, and it's fascinating to see just how much this affects us.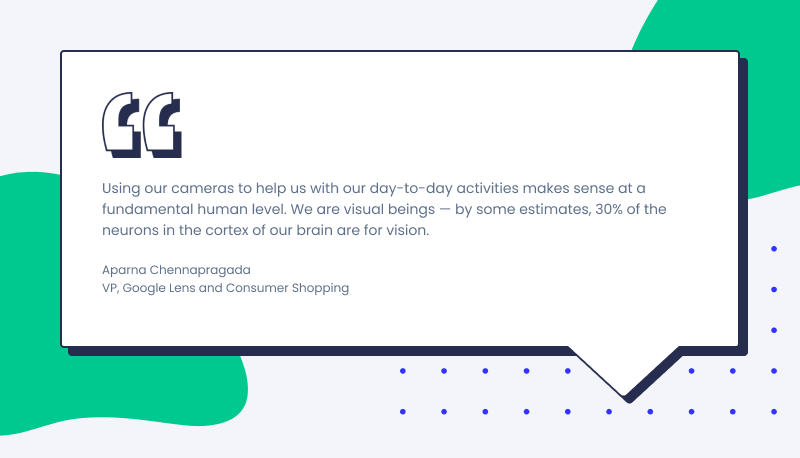 In fact, statistics from the Social Science Research Network reveal that 65% of people are visual learners. This means that most individuals absorb and process information primarily based on what they see.
When we consider the furniture industry, it becomes evident that visuals play a crucial role. It's a realm where aesthetics, design, and visual appeal are paramount. When people shop for furniture, they want to be captivated by what they see. They crave an immersive and engaging experience that allows them to visualize how that sofa or couch will fit perfectly into their space. After all, furniture is more than just functional; it expresses personal style and taste.
The convergence of a visually oriented society, the rise of online shopping, and the furniture industry's unique demands have made product visualization and 3D ecommerce crucial for success in the market.
In this post, we will dive into what 3D e-commerce is all about and how it can benefit your online furniture business.
What is 3D Commerce?
Imagine a shopping experience where customers can explore your products in stunning detail, virtually placing them in their own homes before making a purchase.
This is the power of 3D commerce, a revolutionary approach that is reshaping the e-commerce landscape. Whether you call it 3D e-commerce, 3D modeling commerce, or immersive commerce, the driving force behind this phenomenon remains the same: consumers. They crave choice, convenience, and entertainment.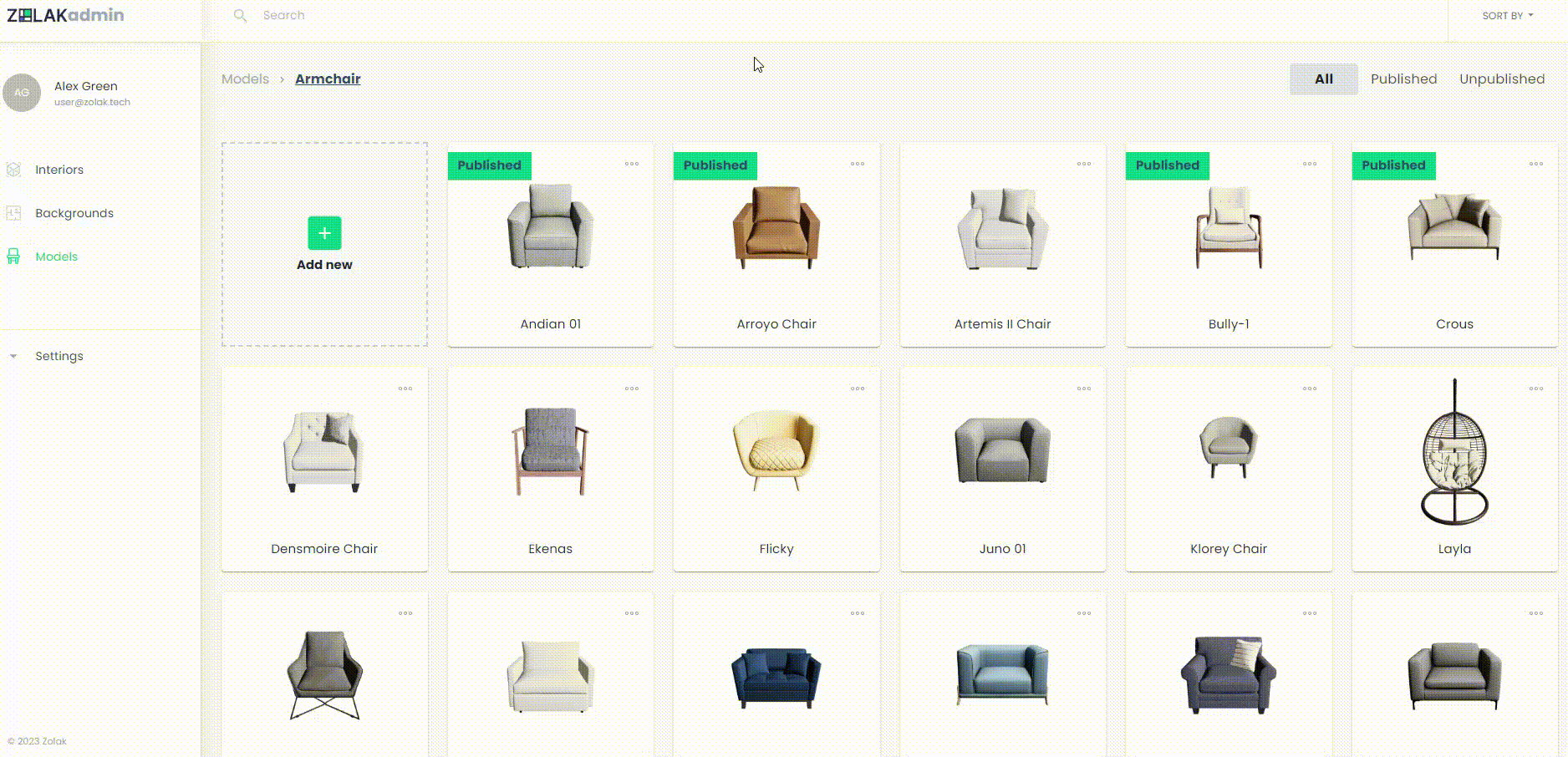 A 3D e-commerce website is an online platform that incorporates 3D models, virtual reality, or augmented reality technologies to provide an enhanced shopping experience. These websites allow customers to interact with products in a more immersive manner, such as rotating, zooming, or customizing 3D models, thereby providing a rich visual representation and a unique browsing experience.
Put simply, 3D commerce goes beyond traditional product images and descriptions by immersing customers in a virtual environment where they can interact with furniture pieces as if they were physically present.
Exploring the Difference between 2D Images, 360 Images, and 3D eCommerce Models
Ask yourself a question: what will set me apart from the competition and maximize my chances of success? It's a question that demands a relentless pursuit of excellence and a willingness to explore the frontiers of customer experience. As visionary entrepreneur Jeff Bezos once said, "Your margin is my opportunity." And in the context of captivating visuals for online furniture retailers, this couldn't ring truer.
By understanding the nuances of visual mediums, you will discover the path to creating an immersive and irresistible shopping journey.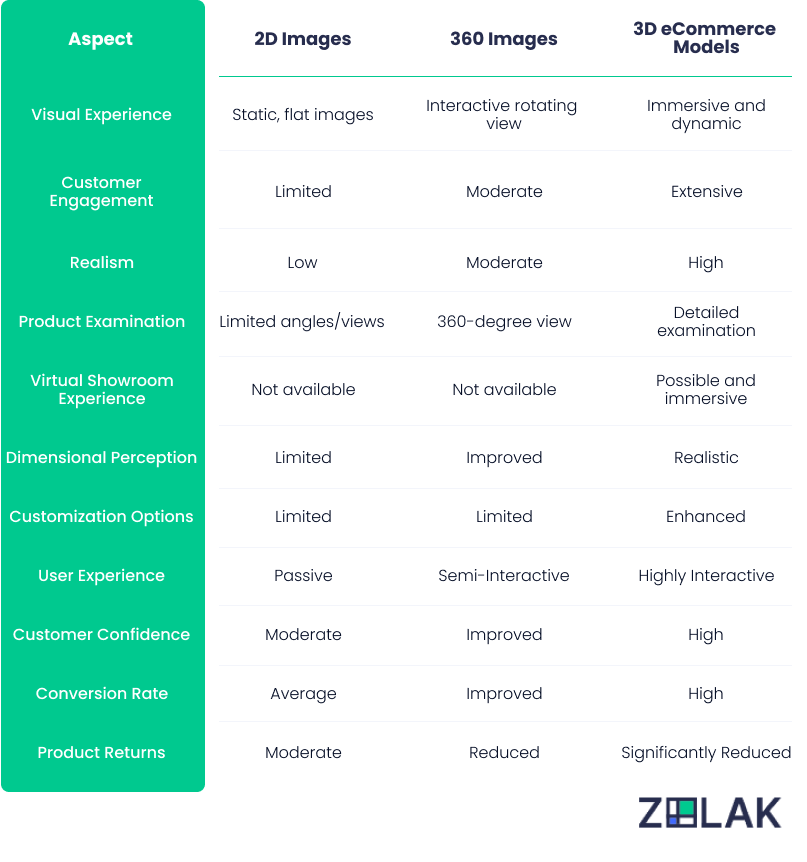 Key takeaways:
2D images (traditional photography) provide a basic visual representation but lack interactivity and realism.

360 images offer a more immersive experience with the ability to view products from different angles but have limited interactivity.

3D eCommerce models provide the highest level of visual engagement, interactivity, and realism, enabling customers to explore products extensively. Therefore, implementing 3D eCommerce models can significantly reduce product returns due to a clearer understanding of the product before purchase.
Understanding the Power of Immersive Product Visualization
While traditional product images and descriptions play a crucial role, they can only do so much in truly capturing the essence of your furniture pieces. This is where the game-changing potential of immersive product visualization, powered by 3D commerce, takes center stage. Let's explore the benefits further.
1. Enhanced Product Interactivity Leading to Increased Customer Satisfaction
The balance of power has shifted. Today, buyers assert control over their journey through the buying cycle, surpassing the influence wielded by vendors over the selling cycle. This paradigm shift is underscored by a thought-provoking revelation from a survey conducted by Forrester where a staggering 74% of buyers disclosed that they engage in extensive online research, accounting for over half of their decision-making process before ultimately making a purchase.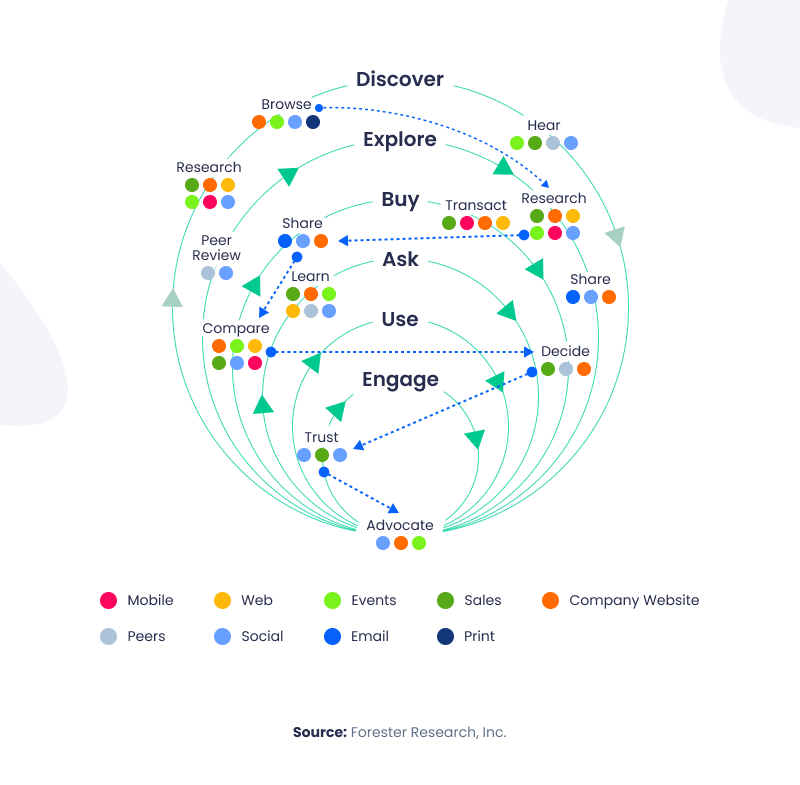 By providing interactive 3D product visualization, you invite your customers to truly connect with your furniture items. In this manner, they can explore every angle, appreciate fine details, and envision how each piece fits into their space. This immersive experience sparks joy, cultivates trust, and ultimately translates into higher customer satisfaction and loyalty.
2. Decreased Returns with 3D Visualization and Augmented Reality (AR)
Product returns are a major pain point for online furniture retailers. Customers often face surprises upon delivery, such as the furniture not fitting properly or looking different than expected.
3D ecommerce can help mitigate this issue.
According to a study by Harvard Business Review, companies that utilize 3D visualization experience a 20% decrease in return rates, primarily because customers have a better understanding of the product before making a purchase.
Take the power of visualization one step further by incorporating augmented reality technology into your online shopping experience. With AR, customers can virtually place furniture items in their homes using smartphones or tablets. They can see how a particular piece looks and fits within their unique space. This accurate virtual representation provides a realistic sense of scale, proportion, and style, seamlessly integrating their existing decor.
3. Improved Conversion Rates
The ability to interact with the models, visualize customization options, and explore different angles and details can significantly increase conversion rates.
Research by Adobe shows that businesses employing 3D visualization in their e-commerce websites experience up to a 30% increase in conversion rates compared to traditional 2D imagery.
This indicates that customers are more likely to purchase when they can visualize and interact with products in a three-dimensional space.
5. Boosting Customer Confidence and Trust through Realistic Visuals
In the digital realm, building customer confidence and trust is paramount. When customers cannot physically see or touch a product, they rely heavily on visuals to assess its quality and value.
Immersive product visualization plays a pivotal role in establishing this confidence.
By offering realistic visuals through 3D models, you elevate the perception of your furniture pieces. Customers can see each item's fine craftsmanship, intricate details, and true beauty. This level of realism creates a sense of trust, assuring customers that what they see online represents what they will receive.
Start-From-Scratch Innovation and Captivating Customer Experiences
Furniture retail executives must first confront the reality at hand. They must acknowledge that new technologies will only become faster, cheaper, and more versatile over time. It is imperative to anticipate the digital density that is likely to permeate their respective categories and prepare accordingly for its effects.
Russell L. Ackoff, coauthor of "Idealized Design: How to Dissolve Tomorrow's Crisis... Today," shared an illuminating anecdote from Bell Labs in 1951. The vice president responsible for the labs challenged a group to identify the organization's most significant contributions to telephonic communications. However, he pointed out that every milestone, from the telephone dial to the coaxial cable, had been conceived and implemented before 1900. He compelled the group to imagine a scenario where the phone system was obsolete and had to be reconstructed from scratch to spur transformative thinking. What form would it take? How would it operate? Inspired by this start-from-scratch mentality, Bell's scientists and engineers embarked on a journey of exploration, ultimately conceiving groundbreaking concepts such as push-button phones, call waiting, call forwarding, voicemail, conference calls, and mobile phones.
The modern customer craves it all—a seamless fusion of digital advantages, including an extensive selection, comprehensive product information, and user-generated reviews and recommendations. They desire to virtually try out furniture products and seek shopping experiences that transcend mere transactions. As a retailer, the challenge lies in translating this vision into tangible innovations that captivate customers and drive profitable growth. It is essential to breathe life into these ideas, leaving customers awe-inspired and hungry for more. The path forward demands a radical shift in perspective—a willingness to start anew, unshackled by conventional boundaries.
Now, let us dive into the practical implications of this transformative mindset, exploring how innovative approaches can be brought to life.
#1 Elevate Your Product Pages with Immersive 3D Product Visualization
The combination of 360-degree rotations, HD zoom, and captivating room scenes creates a truly immersive environment where customers can explore, connect, and visualize your furniture in their own homes.
360-Degree Rotations and Spins in 3D Commerce
In the digital realm, where the tactile encounter is absent, your brand's trustworthiness and product value heavily rely on visual presentation. That's where the awe-inspiring 360-degree view on your product pages comes into play – the ultimate solution to satisfy the desire for a hands-on encounter with furniture.
Let's take a cue from King. They created an engaging customer experience by introducing a 360-degree view of their products. Now, customers can indulge in the joy of rotating and examining every intricate detail. With the ability to choose different fabrics, explore products from all angles, and dive into minute details through zooming, King empowers their customers with all the information needed to make confident purchase decisions.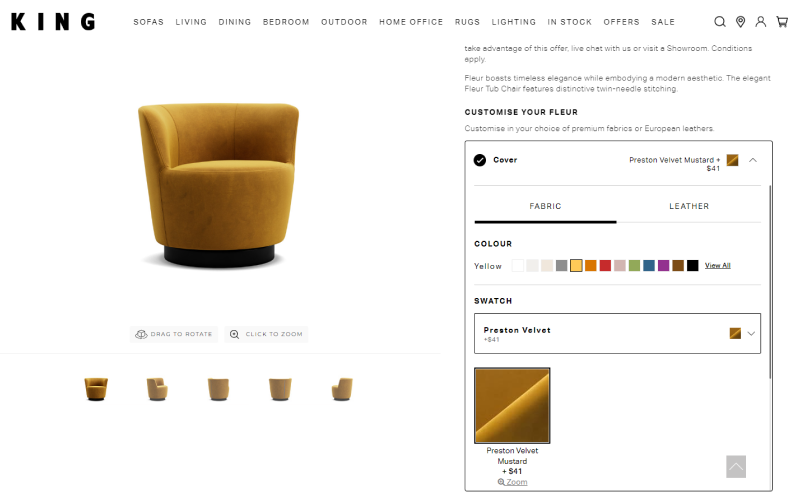 Embracing 3D commerce has propelled King to new heights. Their buyers now have the power to customize products, experience 4K fabric zooming, and gain a comprehensive 360-degree view. Needless to say, this is a complete game-changer.
Elevating Your Product Pages with HD Precision
According to Salsify, a staggering 41% of US shoppers consider high-quality images and product descriptions among their top three factors when choosing where to shop online. Furthermore, 30% of US shoppers won't make a purchase if product images are absent or of poor quality.
This demonstrates how attention to detail matters, especially when creating an enjoyable product page experience. And one crucial aspect that can't be overlooked is the power of high-quality visuals and zoom. According to Baymard's usability testing, a staggering 56% of users immediately delve into product images upon landing on the product page. Unfortunately, they're often met with lackluster images and a disappointing zoom experience.
Joybird's website is treated to crystal-clear, sharp zoom functionalities. Every aspect of their product is meticulously displayed, from texture and patterns to stitching details. Joybird seamlessly incorporates the latest UX best practices, offering a click-to-zoom feature on desktop and a convenient double-tap to zoom on mobile. For an immersive experience, customers can even enjoy a full-screen view of the product, where the magic of 4K zoom truly comes to life, showcasing the product specifics in all their glory.
With the right focus on visuals and zoom capabilities, you'll create an unforgettable online shopping experience that keeps customers returning for more. After all, when it comes to showcasing your furniture, it's the little details that make all the difference.
Creating Captivating Room Scenes in 3D Commerce
When it comes to furniture sales, context is paramount. Presenting in-scale images empower customers to grasp the product's size effortlessly. Similarly, room scenes play a vital role in conveying a product's features, such as color, fabric, and size, while also helping customers envision how it would harmonize in a real-life setting.
Yet, the traditional approach of creating room scenes through product photography is challenging. It's a laborious, time-consuming, and expensive process.
Crate and Barrel, a well-known international furniture and home décor retail store headquartered in Northbrook, Illinois, is a prime example of a website that offers the ability to view products in a room setting.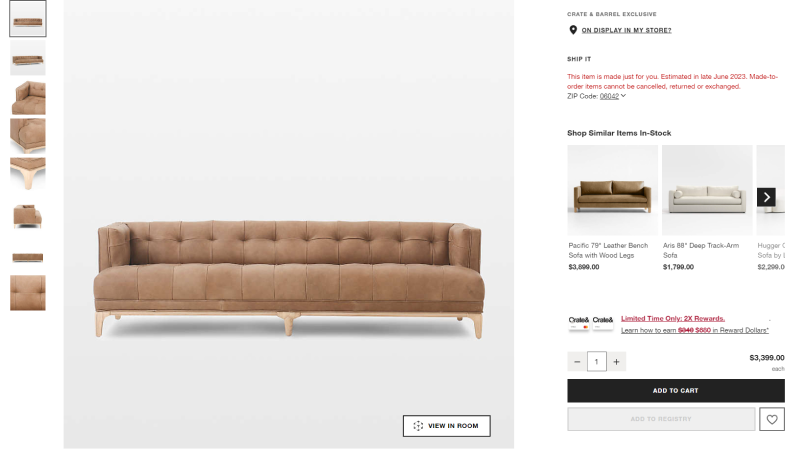 Incorporating room scenes into your product pages gives customers a holistic view of the product's scale and size. The persuasive power of interactive, photorealistic room scenes allows you to craft a compelling brand narrative, captivating customers with a seamless blend of inspiration and practicality.
#2 Use 3D Beyond the Product Page
Congratulations on mastering the basics of 3D product visualization. Now, it's time to take your furniture business to the next level by exploring advanced uses of this powerful technology.
Ensuring Consistent and Eye-Catching Product Listing Page Thumbnails
The product listing page (PLP) is often the starting point for buyers in the consideration phase, making it a critical touchpoint in the buying process.
Inside Weather, a direct-to-consumer furniture brand, believes in offering a modern, personal, and accessible shopping experience. To achieve higher customer engagement, Inside Weather invests considerable time and effort in its online platform. One aspect where Inside Weather pays unparalleled attention to detail is its product feed. Within this area, you'll notice consistent and visually appealing product thumbnails when you browse through their offerings. This consistency is made possible through the use of 3D product visualization, enabling Inside Weather to create uniform PLP thumbnails at scale.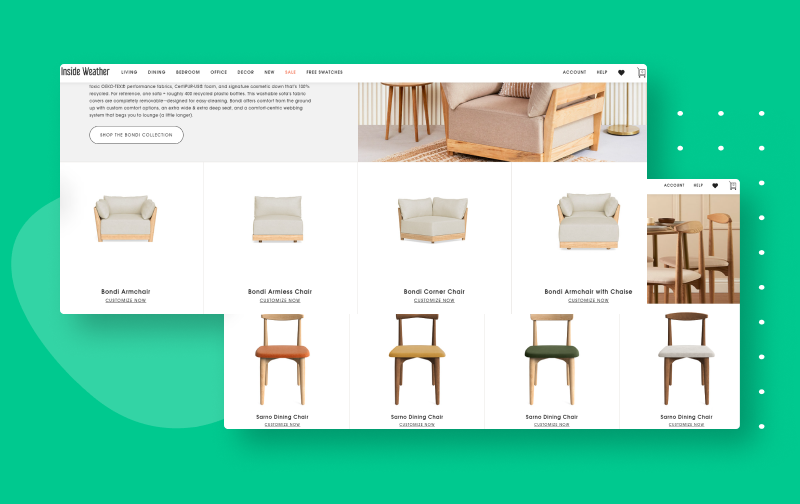 In the world of e-commerce, first impressions matter. By delivering visually stunning and uniform thumbnails, you captivate your audience and entice them to explore further.
Enhancing the Cart Experience with 3D Visualization
The browsing experience often feels disconnected from the checkout process, resulting in a significant challenge: cart abandonment. While businesses invest in captivating visuals and compelling copy during browsing, they sometimes overlook the importance of maintaining a seamless experience through the checkout process by burdening the page with form fields and instructions.
So, what can you do to address this issue and reduce cart abandonment?
One effective solution is to include a high-quality visual representation of the product variation the customer has added to their cart. Maintaining consistent product image thumbnails throughout the customer's furniture journey can bridge the gap between the browsing and checkout processes.
Just take a look at Serena & Lily. They are known for their stylish and sophisticated designs, focusing on coastal-inspired aesthetics with a blend of modern and classic elements. When a customer selects a product with a specific fabric and adds it to their cart, Serena & Lily displays an accurate product visual in the cart thumbnail. This allows customers to instantly verify that they have chosen the right product and reinforces their confidence as they proceed through the checkout process.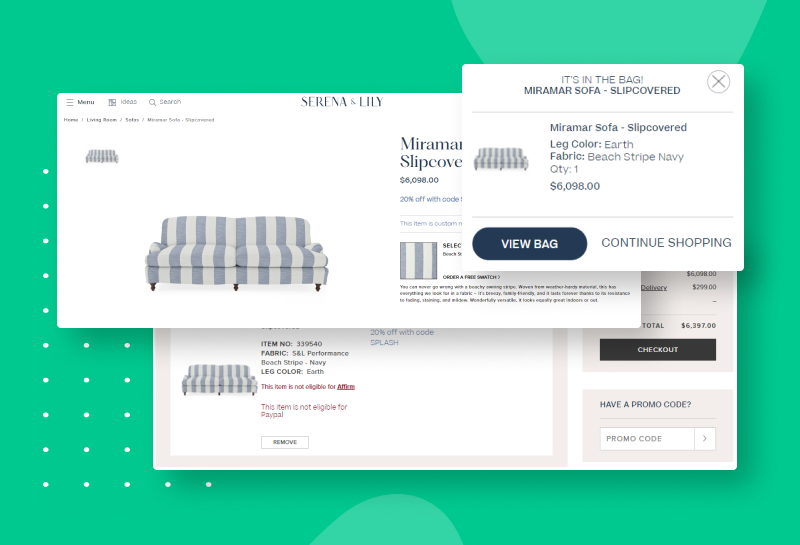 By incorporating product thumbnails of selected items in the cart and during checkout, you provide customers with immediate visual confirmation, thereby eliminating doubts and instilling trust in their purchase decisions. This boost in customer confidence can significantly contribute to completing the checkout process and reducing cart abandonment.
#3 Center Your Furniture Enterprise on the Power of 3D
Beyond the initial implementation, explore additional ways to leverage 3D commerce throughout your furniture business.
Augmented Reality
AR has become increasingly popular in the furniture industry, with over 1 billion smartphones and tablets capable of delivering augmented reality experiences. Customers now expect retailers to offer virtual product placement in their homes, making it an industry standard.
With its standardized product sets and customization potential, furniture is particularly suited for augmented shopping capabilities. According to Deloitte, it offers a positive return on investment and holds the potential for widespread adoption.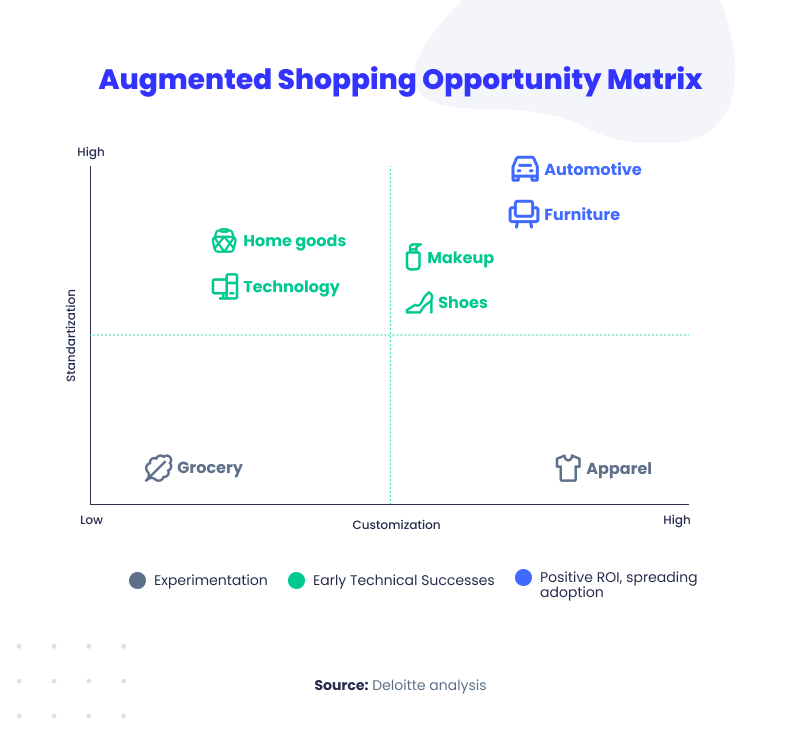 With just a tap, customers can magically place your 3D models into their living rooms, bedrooms, or offices. It's the ultimate merger of the virtual and physical worlds, building trust and confidence in their purchase decisions.
CB2, the stylish spin-off from Crate & Barrel, presents a trendy assortment of contemporary, sleek, and midcentury furniture, catering to both urban apartment residents and individuals embarking on their first homeownership journey. CB2, known for comfort, quality, and excellent customer service, leverages AR to enrich its e-commerce merchandising features. Customers can use AR to visualize how a furniture item fits into their space directly through their browser, eliminating the need for separate mobile apps and providing a smooth and seamless customer experience.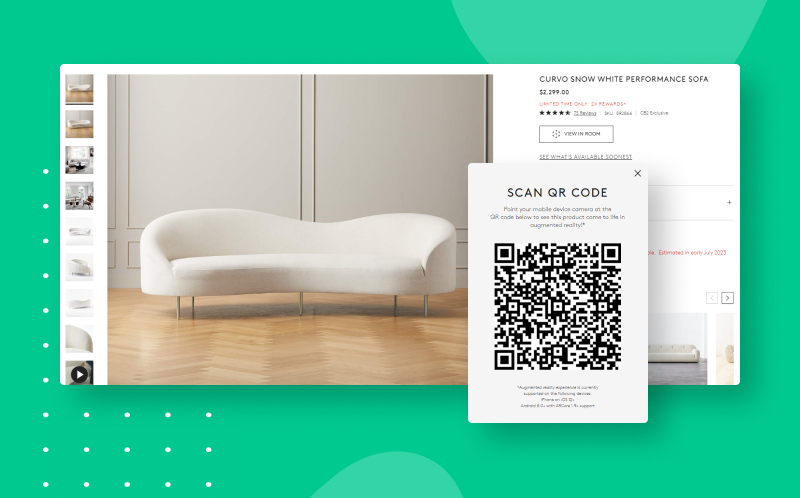 To ensure a consistent experience and promote AR adoption, CB2 incorporates a QR code that appears when customers browsing on a desktop click the "View in Room" button. This seamless transition from desktop to mobile unleashes the power of web-based AR.
By offering augmented reality, customers can envision the furniture in their rooms, bridging the gap between online and offline experiences. This convenience accelerates customer buy-in and provides the necessary information to make more informed decisions.
Endless Aisle Concept
Leverage the endless aisle concept by showcasing your full furniture catalog through a 3D ecommerce website. Even if certain items are unavailable in-store or in your warehouse, customers can still explore and purchase them virtually.
The endless aisle concept revolves around using kiosks and tablets in physical stores, allowing customers to browse and order products that may not be physically showcased or are out of stock. This concept gives customers a more comprehensive range of choices and the ability to access products that may not be readily available in-store.
Loaf, a dynamic British company, exemplifies this by using 3D product visualization to enhance the brand experience during furniture markets and enable potential retail partners to explore their collections and inspect product details. Loaf utilizes a simple approach to bring the endless aisle concept to life.
By implementing an endless aisle, furniture brands, and retailers can effectively display their product assortment without needing multiple showrooms occupying extensive space in each location. Instead, they can opt for attractive locations and establish small, gallery-like stores that offer engaging shopping experiences to customers.
Integrating 3D product visualization into in-store experiences through endless aisles expands the product offering. It enables retailers to optimize their physical footprint and deliver a more personalized and immersive shopping journey.
Email Marketing and Social Media Engagement
Marketing strategy is vital for e-commerce sales success as it helps businesses reach their target audience, increase brand awareness, and drive customer engagement. In the digital landscape, delivering compelling content across various touchpoints is crucial to persuade customers to choose your products, particularly in visually-oriented industries like furniture.
However, content creation can be time-consuming and expensive. Fortunately, harnessing the potential of 3D product visualization can help overcome these challenges.
Sofacompany, a Danish DTC furniture brand, is at the forefront of revolutionizing furniture shopping experiences. In addition to their feature-rich product pages, including 360-degree views, a product configurator, and 4K zoom, they use high-quality product visuals in their email marketing campaigns and social media presence.
By incorporating 3D product visualization into email marketing and social media strategies, furniture businesses can elevate their visual content, capture the attention of their target audience, and create a consistent and immersive brand experience across multiple digital touchpoints.
Future Innovations in 3D Commerce for Furniture Retailers
Here, we'll explore three exciting trends that hold immense potential for your business: virtual reality showrooms, interactive augmented reality experiences, and the integration of artificial intelligence for personalized product recommendations.
Virtual Reality Showrooms
Imagine transporting your customers into a stunning virtual showroom where they can explore your furniture collection as if they were physically present. Virtual Reality (VR) showrooms offer an immersive browsing experience beyond traditional product images and descriptions.
VR showrooms allow customers to examine details, test different configurations, and gain a genuine sense of scale and proportion. They can stroll through beautifully designed virtual spaces, envisioning how your furniture might fit into their own homes. Such experiences foster a sense of confidence and reduce uncertainty, ultimately driving conversions.
3D Commerce Augmented Reality Services for In-home Trials
AR technology enhances the e-commerce experience by overlaying virtual elements in the real world. In e-commerce, AR helps customers "try on" furniture products by using camera-equipped devices such as mobile phones before purchasing them.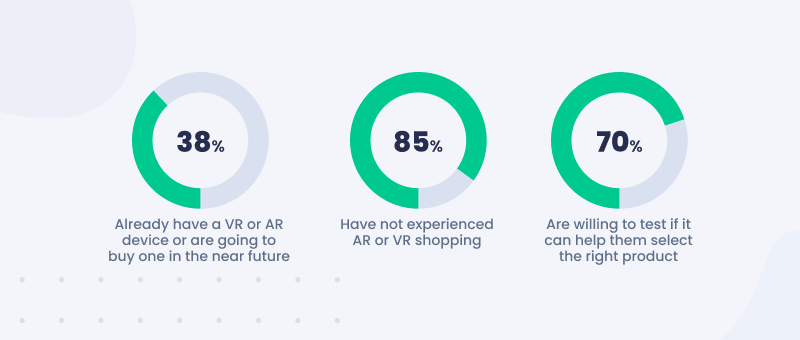 Integration of Artificial Intelligence for Personalized Product Recommendations
Artificial intelligence (AI) has revolutionized the retail industry by enabling personalized experiences tailored to individual preferences. By leveraging AI algorithms, you can offer your customers highly relevant and personalized product recommendations that align with their style, budget, and requirements.
How to Choose a Quality 3D eCommerce Visualization Platform
Before diving into the sea of options, take a step back and assess your current 3D eCommerce capabilities. Identify areas for improvement and pinpoint the specific features and functionality you need in a platform. This self-assessment will guide your search and help you make an informed decision.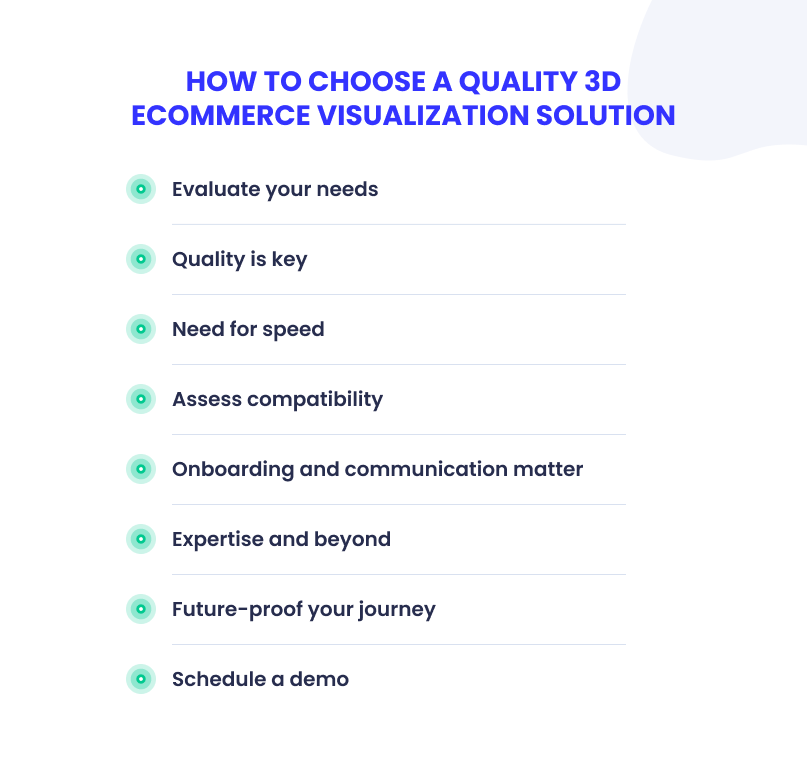 Evaluate your needs
To start, consider the specific features and functionality you require in a 3D eCommerce platform. Think about your target audience and their preferences when browsing and purchasing furniture online. By understanding your customers' needs, you can select a platform that aligns with their expectations.
Quality is key
First things first, the quality of your 3D product visuals is paramount. It not only shapes your brand image and enhances the overall website experience but also paves way for future growth and new use cases. Think of it as the foundation that sets the stage for success.
Need for speed
Don't overlook the importance of product page load speed. Slow-loading pages can turn customers away, harm your SEO efforts, and damage your business reputation. Make sure your chosen 3D platform keeps things snappy and delightful for your online visitors.
Assess compatibility
A seamless integration is essential for a smooth and streamlined customer experience. Make sure the platform you choose integrates seamlessly with your existing eCommerce system. This ensures that your customers can navigate effortlessly between the 3D visualization and the rest of your online store, providing them with a consistent and enjoyable shopping journey.
Onboarding and communication
3D product visualization is an ongoing journey, and communication is key to success. Therefore, partner with a vendor that acts as your ally throughout the process. A dedicated team that's always there to lend a helping hand can make all the difference.
Expertise and beyond
The world of furniture is complex, and big-ticket items require top-notch visualization that instills confidence in your customers. Seek a vendor who not only has product expertise but also offers industry knowledge.
Future-proof your journey
The world and technology are constantly evolving, so choose a 3D product visualization platform that is future-proof. Look for a partner who is ready to scale, grow, and adapt to the ever-changing landscape.
Schedule a demo
Once you've identified a platform that meets your needs, don't hesitate to schedule a demo. Seeing the platform in action will give you a better understanding of how it works and how it can benefit your business. This hands-on experience will help you assess its user-friendliness, functionality, and overall fit for your specific requirements.
You Gotta Know Your Buyer
Sitting on the sidelines is simply not an option if you're in it for the long haul in the e-commerce game.
3D Commerce is the undeniable future of shopping. Improved visualization and engagement? Check. Higher conversion rates? You got it. A shopping experience that'll leave your customers grinning from ear to ear? Absolutely! Get ready to ride the wave of 3D technology because it's about to revolutionize the world of commerce for years to come.
To maximize the impact of 3D for commerce, consider enhancing the experience with virtual reality and augmented reality technologies. By developing an AR app or integrating it with AR/VR platforms, you would let your customers virtually place furniture in their own spaces, visualize how it fits, and even explore virtual showrooms.
Ready to enter the 3D commerce era?
Check out Zolak Solutions
Zolak Solutions offers two powerful 3D eCommerce solutions - Showroom and Vision.
Zolak ShowRoom is an AR/VR-based furniture visualization software that allows your customers to browse furniture in hundreds of realistic interiors, customize them and discover the perfect combinations for their own home, all from a retailer's website. By showcasing furniture products in a virtual space, customers can browse the catalog, visualize products in their desired settings, and make more informed purchasing decisions, thereby enhancing the overall e-commerce experience.
Zolak Vision is a furniture personalization software powered by AI and computer vision technology. Customers can upload a photo of their room and replace their current furniture with your products to see how it would look in their space. The key features include content personalization, cross-channel personalization, advanced features such as eliminating guesswork with shadow and lighting simulation, and the ability to showcase furniture from multiple angles.
Request a demo to see it in action and how it can help transform your furniture retail business.
3D Commerce Stats and Data
Step into the enchanting realm of 3D commerce by the key metrics and numbers.

FAQ
What is an e-commerce 3D model, and how does it benefit my online furniture business?

An eCommerce 3D model is a digital representation of a product or item that can be utilized in an online retail environment, and would be greatly beneficial by providing customers with a more immersive and realistic shopping experience. 3D models allow customers to examine products from all angles, zoom in for close-ups, and interact with customizable options. This enhances their understanding of the product's features, improves engagement, and boosts confidence in making a purchase decision.
How can customers browse virtual catalogs in the context of online retail?

In online retail, customers can browse virtual catalogs by accessing digital platforms that present a wide range of products in a visually appealing manner. These catalogs often include high-quality images, detailed descriptions, and interactive elements such as 360-degree views or product videos. Customers can explore different categories, filter search results, and navigate through the virtual catalog to find products of interest.
How does immersive commerce (icommerce) relate to the furniture industry?

Icommerce has a significant impact on the furniture industry as it enables customers to virtually explore furniture items, visualize them in different settings, and experience a more interactive and engaging shopping process. Some notable examples of successful immersive commerce implementations include Interactive 3D product configurators and augmented and virtual reality.
What is 3D secure e-commerce?

3D secure e-commerce is a security protocol designed to enhance the safety of online transactions. It adds an extra layer of security to online transactions, protecting both merchants and customers. It helps verify that the purchaser is a legitimate cardholder, reducing the risk of fraudulent activities and unauthorized card usage.
How can furniture retailers incorporate 3D e-commerce software into their online platforms?

Furniture retailers can incorporate 3D ecommerce software by partnering with technology providers specializing in 3D modeling and visualization. These software solutions enable the creation of interactive 3D product models, seamless integration with online platforms, and features like product customization and virtual try-on.