Smart Solutions for Smart Businesses: Why Furniture Retail Software is a Must-Have
Anastasiya Talochka
·
10 minute read
40-second summary
Retail furniture software offers numerous benefits, including improved inventory management, streamlined order processing, simplified delivery tracking, and better data analysis.
Various types of furniture store software cater to different needs, such as point of sale (POS) systems, e-commerce platforms, product visualization applications, warehouse management systems (WMS), customer relationship management (CRM) tools, and enterprise resource planning (ERP) software.
However, the landscape of furniture retail is evolving, and one of the most impactful trends is the emphasis on advanced product visualization. This involves creating immersive online shopping experiences through features like augmented reality (AR), 3D configurators, and mixed reality tools.
When choosing furniture retail software, critical factors to consider include ease of use, integration capabilities, security measures, and customer support.
Subscription-based models like Software as a Service (SaaS) offer cost-effective and scalable solutions, allowing businesses to access the latest technology updates without hefty upfront costs.
See how Zolak can help you power-up online furniture store for growth and revenue.
Imagine this: you're the owner of a successful furniture store, and your business is booming. You've worked hard to create a store that's known for its quality products and exceptional customer service.
But as your business grows, you realize that managing inventory, pricing, and customer relationships can be challenging. On top of that, keeping track of sales, payments, and deliveries can quickly become overwhelming. You spend countless hours manually updating spreadsheets and trying to stay on top of everything.
The right furniture retail software can help you work smarter, not harder.
From point-of-sale software that helps ring up sales quickly and efficiently to e-commerce platforms that allow you to sell your products online to product visualization applications that give your customers a true-to-life look at your furniture, the right software can help you streamline your operations and improve customer satisfaction.
Benefits of Retail Furniture Software
Whether you're a small business owner or a large corporation, investing in a retail furniture store software can help streamline your operations and boost your profits. Here are some of the benefits you can expect from utilizing furniture store software programs.
Improved Inventory Management
Furniture inventory management software can help you keep track of stock levels, product availability, and delivery timelines. This can help you avoid running out of stock and ensure that your customers always have access to the items they need.
Enhanced Order Processing
By automating the order fulfillment process, you can reduce errors and improve efficiency. This saves you time and helps you avoid costly mistakes, such as shipping the wrong product to a customer.
Simplified Delivery Management
You can track deliveries, monitor shipping times, and ensure that products are delivered on time. With a single database, you can manage customer profiles and track orders across multiple stores or locations. Furthermore, it can keep your customers informed about the status of their orders and provide them with accurate delivery timelines.
Better Data Analysis
By leveraging technology to track sales performance, monitor purchase orders, and optimize pricing strategies based on market trends and customer demand, your furniture retail store can achieve unprecedented success. With these insights, you can fine-tune your search engine optimization and digital marketing efforts, ensuring that you reach the right audience with the right message at the right time.
Improved Sales Tracking and Financial Performance
You can track sales data and identify trends to help you make better business decisions. For example, you might notice that certain products sell better during certain seasons or that certain marketing campaigns are more effective than others.
Personalized Shopping Experience
A furniture store software solution can create a shopping experience that truly resonates with your customers. Think about it this way: in a world of AR apps and 3D technology, a personalized shopping experience can be created through features like product visualization and customization. For example, an AR app for furniture shopping can allow customers to see how a piece of furniture would look in their home through the use of 3D visualization technology. This leads to increased customer satisfaction and boosts customer loyalty, driving repeat business and, ultimately, long-term success.
Learn More
Peel back the layers of
virtual shopping
to reveal the technology behind the experience. Gain insights into how 3D modeling, real-time rendering, and interactive platforms collaborate to create and visualize lifelike representations of furniture pieces.
Types of Furniture Store Software: Furniture Retailer Solutions
One of the most important things throughout your career is the value of choosing the right tools and solutions to support the growth and success of your business. This is particularly true when selecting software for your furniture store.
With so many different types of furniture store software available in the market, it can be overwhelming to make the right choice. However, by evaluating your business needs carefully, you can identify furniture retailer solutions that will best fit your requirements and help drive your business forward.
Furniture Store Point of Sale Software (POS)
A POS system for a furniture store is ideal for tracking your store's sales and inventory tracking. One of the key benefits of using furniture store inventory software is that it allows you to track inventory availability in real-time, so you always know what products are in stock and what needs to be replenished. Furniture store POS system usually include features like credit card processing, customer tracking, employee management, order fulfillment, and accounting.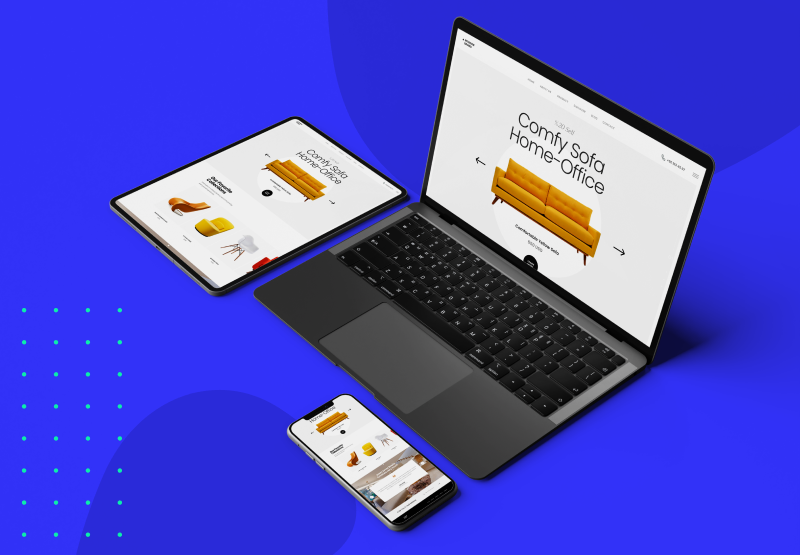 E-commerce Platforms
If you're ready to expand your business into the world of e-commerce, you'll want to explore e-commerce platforms. These solutions are designed to help you sell your furniture online and typically include shopping cart functions, product catalogs, payment processing systems, shipping integrations, and marketing automation tools.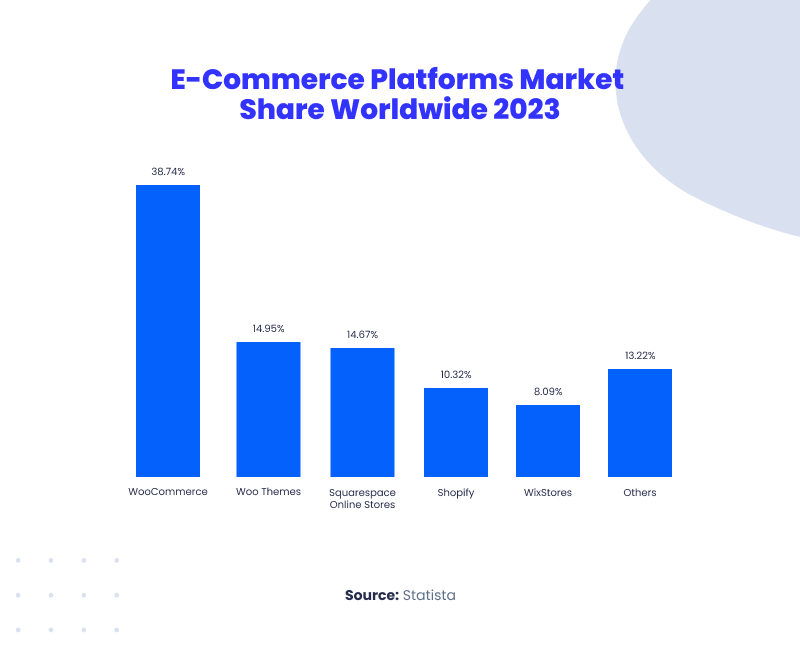 Product Visualization and Configuration Applications
Are you looking to give your customers a more personalized shopping experience? Consider investing in product visualization and configuration applications. These programs are designed to help customers visualize furnishings to suit their exact needs. They usually offer a range of options with an extensive library of 3D models or virtual prototypes that can be manipulated in real-time, allowing customers to see exactly how your furniture will look in their space.
Did you know
You can increase conversions with Zolak's AI-Based Visual Commerce Solutions
Shopify has found, that while adding a video improves conversion rates by 60%, adding 3D Visualisation improves conversions by 94%, on average.
Warehouse Management Systems (WMS)
WMS provides efficient control over a store's warehouse management operations by allowing users to easily manage product movement and stock levels. WMS systems come equipped with advanced technologies like barcode scanners and RFID tracking systems, which simplify inventory control and provide real-time inventory data. By using these technologies, businesses can gain complete visibility into their inventory levels, enabling them to make informed decisions about stock replenishment and reduce the risk of stockouts.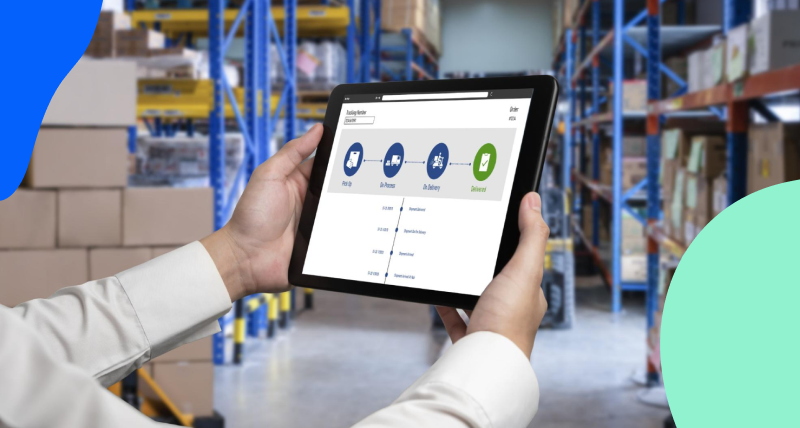 Customer Relationship Management (CRM) Tools
CRM software helps store personalized customer relationships by centralizing customer information. This data can then be used for targeted campaigns and analyzing buying behavior to inform future decisions about product offerings and marketing tactics. In other words, creating effective customer management strategies on the sales floor is key to building strong relationships with shoppers.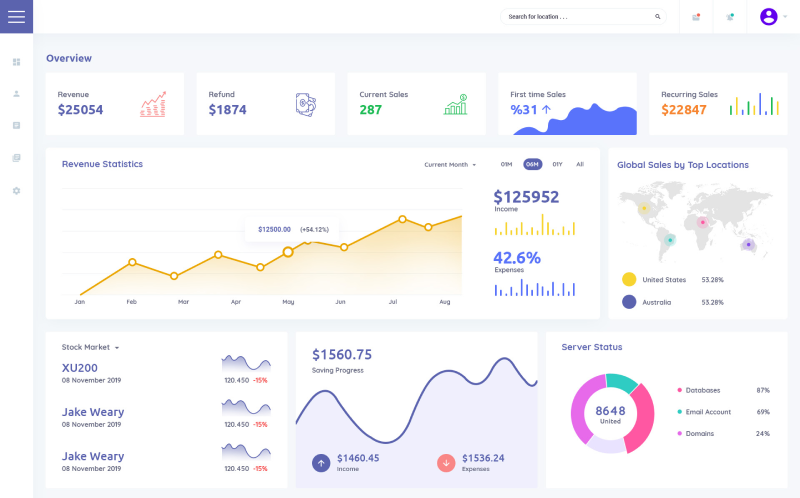 Enterprise Resource Planning (ERP) Software
This furniture store retail software helps manage all aspects of their business, from accounting and finances to marketing and manufacturing. ERP suites usually provide extensive reporting capabilities, enabling owners to monitor performance trends over time and analyze cost savings across multiple locations or departments simultaneously.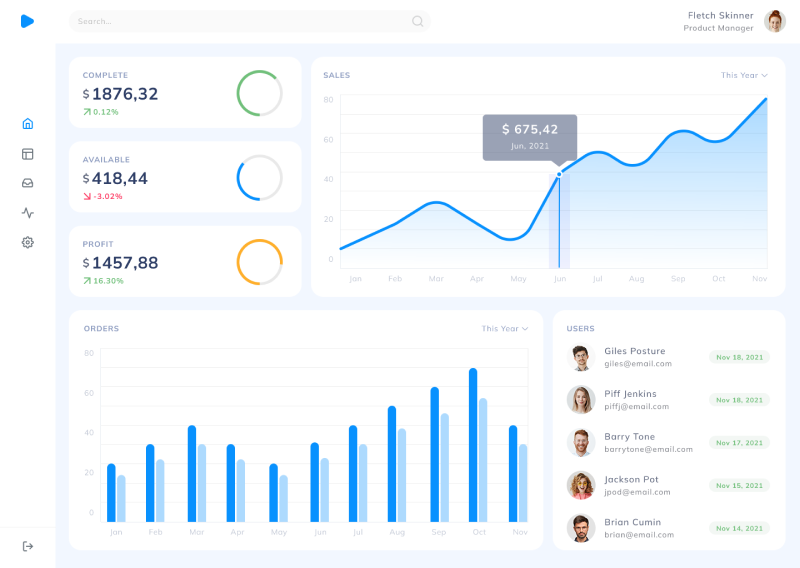 Why You Should Consider Exactly This Type of Furniture Store Software in 2023
When it comes to selecting software for furniture retail, there are many options available. However, our research and analysis have led us to conclude that advanced product visualization is the future of online furniture retail stores.
While there are certainly other types of software that can be valuable for furniture retail businesses, such as point of sale systems, e-commerce platforms, warehouse management systems, and customer relationship management tools, none of these options offer the same level of engagement and sales potential as product visualization and configuration applications.
Embracing e-commerce and prioritizing visual content is crucial for success in the furniture industry and here is why:
According to Statista, the global furniture e-commerce industry is expected to reach $41 billion by 2030, making it one of the fastest-growing categories. In fact, data from Comscore's 2023 State of Digital Commerce Report shows that furniture and appliances were among the top-grossing digital commerce categories, contributing to a whopping $76 billion to the $1.09 trillion total.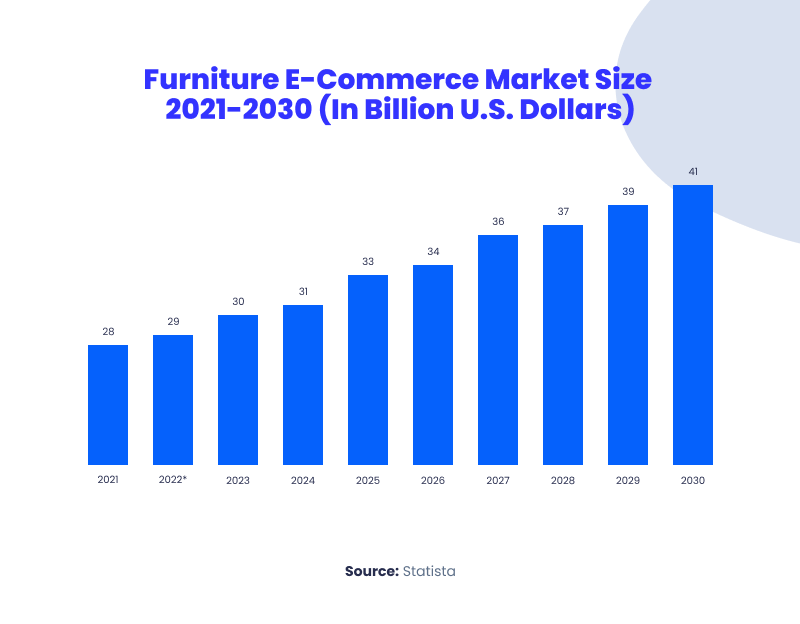 In other words, if you want your furniture business to succeed in the long run, e-commerce will be a vital pillar for you to embrace. However, the only way to convince customers to click that "add to cart" button and make a purchase online is to offer an engaging online shopping experience.
The website experience is everything. You need to get it right to stand out in a crowded marketplace.
A picture is worth a thousand words, and a great product visualization is worth a thousand sales.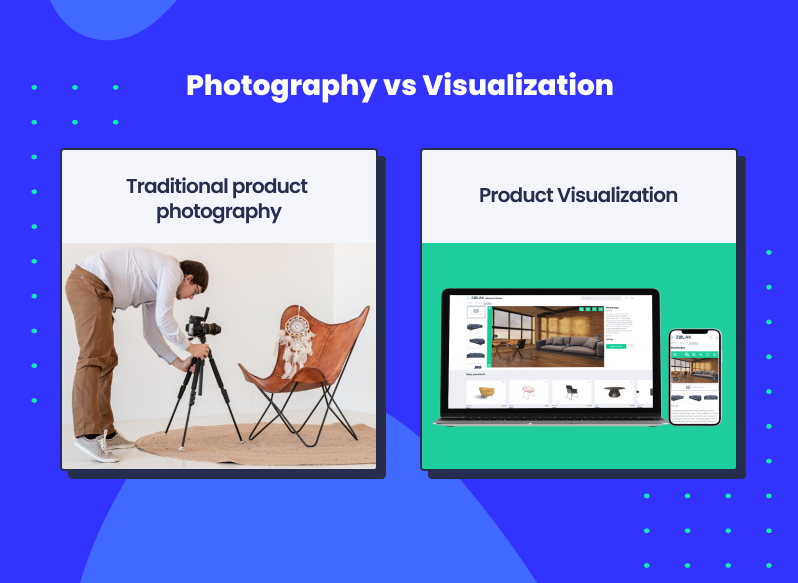 Visual content plays a critical role in driving sales, and showcasing your products in the best possible light is vital. Advanced features that enable customers to inspect the product closely and replicate an in-person shopping experience can make a significant difference in converting website visitors into customers.
DemandGen Report shows that visual content has a significant impact on purchasing behavior. In fact, studies have found that 91% of customers prefer interactive and visual content over traditional, static content.
A study by Wibbitz also showed that visual content could significantly impact important business goals, such as increasing website traffic, improving brand awareness, boosting social media engagement, generating leads, and driving sales.
Viewing Successful Furniture Store Software Integration in Action: Product Visualization Example
A few well-known players dominate the online furniture retail software industry, but smaller, niche brands are also making waves with their unique approach to online shopping.
One such example is Darlings of Chelsea, an award-winning designer sofa brand specializing in luxury, hand-crafted sofas, which are made to order in the U.K.
But what sets them apart is their unparalleled website experience.
They offer a complete online shopping experience beyond standard product photos. Their website allows customers to visualize products in their own space using augmented reality, providing a realistic feel of the product. Customers can interact with the product in various ways, such as zooming in and out or rotating it 360 degrees, giving them a sense of control and making them feel more invested in the product.
By offering a superior website experience, Darlings of Chelsea sets itself apart in a crowded marketplace. Through this experience, they demonstrate how a smaller, niche brand can compete with big players by providing a personalized and engaging online shopping experience that customers will remember.
As the online furniture retail software industry continues to evolve, it's exciting to see smaller brands like Darlings of Chelsea pushing the boundaries and offering innovative solutions that cater to customers' needs.
They are a testament that with the right approach and a focus on customer experience, even smaller brands can succeed in growing their online furniture retail space.
Learn More
Delve into two compelling case studies that illuminate the transformative power of augmented reality (AR) for online furniture retail. This article provides a deep dive into how two prominent players in the industry,
Build.com
and
Pinterest
, harnessed AR to achieve substantial gains in reducing return rates and boosting furniture sales conversion rates.
Choosing the Right Furniture Retail Software: Factors to Consider
When selecting the best furniture store software, several factors must be considered.
Important Considerations When Selecting Software for Furniture Store
Ease of Use. The software should be user-friendly and straightforward to navigate. You want your team to be able to use the software with ease, without the need for extensive training.
Integration. Your software should integrate seamlessly with other tools and systems you use to enhance your operational efficiency.
Security. The last thing you want is to be hacked by a villainous cyber threat. Look for a software solution with robust security features to protect your business and customer data.
Tips for Evaluating Different Furniture Store Software Solutions
Research. Do your homework. You must be vigilant against the perils of false advertising. Just because a software solution claims to be "all-in-one" or "easy to use" doesn't necessarily mean it's true. Don't be taken away by flashy marketing gimmicks or flowery sales pitches.
Demo. Before committing to a software solution, ask for a demo or trial. This will give you a feel for how the software works and whether it meets your business requirements.
Support. Make sure your software vendor provides adequate support, such as training and documentation.
Budget. While it may be tempting to choose the cheapest option, remember that you often get what you pay for. A more expensive software solution may offer more robust features and better support, ultimately leading to greater efficiency and profitability for your business in the long run.
Scalability. As your furniture store grows, your software solution should be able to scale up to meet increasing demand. Ensure that the software solution can accommodate your future needs before making a final decision.
How Much Does Product Visualization Software for a Furniture Store Cost?
With traditional software, the upfront costs can be steep, and you're often stuck with outdated versions. SaaS eliminates these problems by offering flexible subscription pricing and always giving you access to the latest and greatest software updates.
Software as a Service, or SaaS, is a popular furniture retail software delivery model that allows businesses to access applications through the Internet without installing or maintaining any software on their own services. With subscription pricing, you only pay for what you use, making it an affordable option for businesses of all sizes.
Here are some of the most common product visualization software services offered by SaaS providers for furniture stores, along with their subscription pricing:
3D Confurator / 360 View Confurator. Allows customers to customize furniture products in real-time and view a product from all angles in a 360-degree view. Pricing ranges from $200 to $300 per month.

3D Modeling Services. Creates photo-realistic 3D models of your furniture products. Typically, 3D modeling services will cost you anywhere from $150 to $500 per model. The more complex the model, the more hours designers will need to put in, and the higher your bill.

AR Tools. Uses Augmented Reality technology to let customers view furniture products in their own space. Pricing ranges from $500 to $1500 a month.

Room Decorator / Room Planner. Enables you to design and visualize entire rooms with your furniture products. You're looking at shelling out anywhere from $1500 to $2000 per month for top-of-the-line services. And that's not even factoring in any markup the provider may add depending on the number of items you want to include in the room planner.

Mixed Reality Tools. Mixed Reality is focused on creating immersive and interactive experiences that combine the physical and digital world. Mixed Reality can create interactive 3D models of furniture products that customers can view in their own space using a smartphone or tablet. Some providers offer Mixed Reality services for $1500, while others charge $4000 monthly for more advanced features and customization.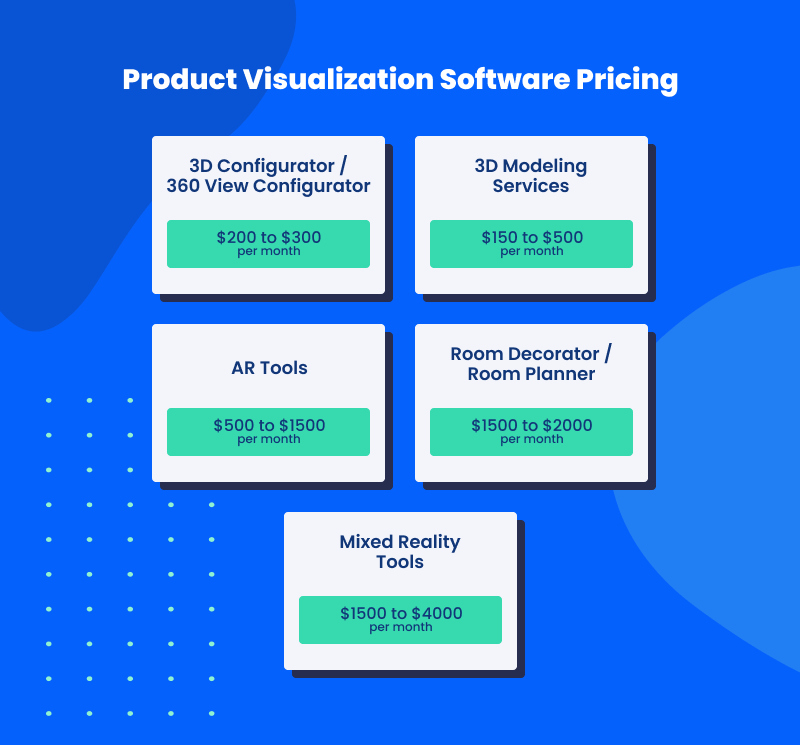 It's important to note that these prices are just estimates, and the actual cost will depend on your specific needs and the solution provider you choose.
Zolak's Showroom and Vision Solutions
Zolak's Showroom and Vision provide a comprehensive software solution that can help you create stunning online showrooms, visualize furniture in real spaces, and provide AI-driven personalization to your customers.
Create a Stunning Online Showroom
With online furniture showroom software, retailers can create virtual showrooms that feature their entire furniture collection in various realistic and customizable settings. Customers can explore each piece of furniture in detail and see how it fits into different room designs.
AI-driven Personalization
Using AI technology, Zolak's Vision enables you to visualize your furniture in real spaces. This feature allows your customers to see how your furniture products will look in their own homes before making a purchase, thereby providing a more immersive and personalized shopping experience
Easy Integration with Your Website
Zolak's software solution is designed to integrate with your website, making it easy to add the solution to your existing online store.
AWS Security
Zolak uses AWS for reliability, scalability, and data security. AWS provides a range of security measures to protect customer data, including physical security measures, network security, and data encryption.
Cost-saving Subscriptions
Zolak's furniture shop software is a cost-effective solution that provides a range of features and benefits at an affordable price. This can help furniture shops of all sizes enhance their online presence and increase sales without breaking the bank.
If you're not convinced yet, just remember that not doing anything to prepare for the new era of furniture e-commerce is the most expensive decision you'll ever make.