Virtual Shopping: The Future of the Furniture Industry
Anastasiya Talochka
·
9 minute read
With the rapid evolution of online shopping, the virtual shopping experience is also undergoing a transformative shift. This shift blurs the boundaries between online and physical stores, revolutionizing how customers interact with brands and products.
Gone are the days when online shopping was merely a transactional process, limited to scrolling through product images and descriptions. Today, a virtual shopping experience is designed to simulate the atmosphere and interactivity of physical retail spaces, thereby offering a dynamic and captivating shopping journey.
So, how can you offer your customers a virtual shopping experience that matches the level of service they'd receive in-store?
In the upcoming sections, we will delve deeper into how virtual shopping works, explore different types and approaches of virtual shopping experience, highlight the benefits for furniture retailers, and showcase inspiring virtual store examples.
20-second summary
Virtual furniture shopping enables customers to browse, select, and purchase furniture items through online platforms.
It replicates the in-store shopping experience using tools like 3D modeling, augmented reality, and virtual reality.
Types include virtual showrooms, 3D product visualization, design consultations, virtual shopping assistants, AI/AR-based staging, and VR shopping.
Benefits for retailers: increased sales, customer engagement, retention, loyalty, brand awareness, data insights.
Examples: IKEA's app, Urban Barn's virtual design studio, Room & Board's design collaboration, West Elm's room planner, Crate&Barrel's design desk, Wayfair's AR experiences, Amazon's showroom and view in room, Ethan Allen's inHome® software.
See how Zolak can help you power-up online furniture store for growth and revenue.
What is Virtual Shopping in the Furniture Industry?
Virtual furniture shopping allows customers to browse, select, and buy furniture items through online store platforms or applications. It provides a digital environment where customers can explore and interact with furniture products virtually, replicating the experience of traditional in-store shopping. A virtual store combines various tools to create a physical store experience for online customers. These tools can range from 3D modeling, augmented reality, artificial intelligence to even virtual reality furniture shopping.
Virtual shopping helps customers make more informed decisions about their purchases, as they can see how the furniture would look in their own space and assess its features and functionality. This convenient and immersive shopping experience brings the benefits of traditional in-store shopping to the online realm.
Types of Virtual Shopping
In the dynamic realm of virtual shopping, a multitude of innovative techniques and approaches are harnessed to enhance the digital shopping experience. These approaches bridge the gap between online and offline channels, creating a seamless shopping journey for customers who choose to adopt virtual shopping.
Virtual Showrooms
These immersive spaces recreate the ambiance of physical retail environments or pre-designed interiors within a virtual setting. Customers can peruse various furniture collections and engage with items in a visually realistic manner. This approach offers a sense of scale, texture, and aesthetic appeal as customers explore different furniture pieces.
3D Product Visualization
Highly detailed 3D models of furniture items enable customers to interact with intricate design elements, colors, and textures. Shoppers can rotate, zoom in, and explore various perspectives, gaining a comprehensive understanding of the product's visual appeal and quality.
Design Consultations
Through virtual meetings and video calls, customers can collaborate with design experts who provide tailored advice on aspects like room layouts, fabric choices, and expert opinions. Leveraging the convenience of virtual platforms, shoppers enhance their experience with personalized guidance.
Virtual Shopping Assistants
These assistants, such as chatbots and recommendation systems, are designed to provide real-time recommendations and suggestions to customers. Seamlessly integrated into the site interface, they facilitate communication and provide valuable insights, options, and guidance.
AI/AR-Based Virtual Staging
Customers can virtually place furniture items within their rooms and explore how they harmonize with the existing décor. AR-based home staging provides a true-to-life representation, enabling customers to see the furniture's size, proportions, and style in context.
Learn More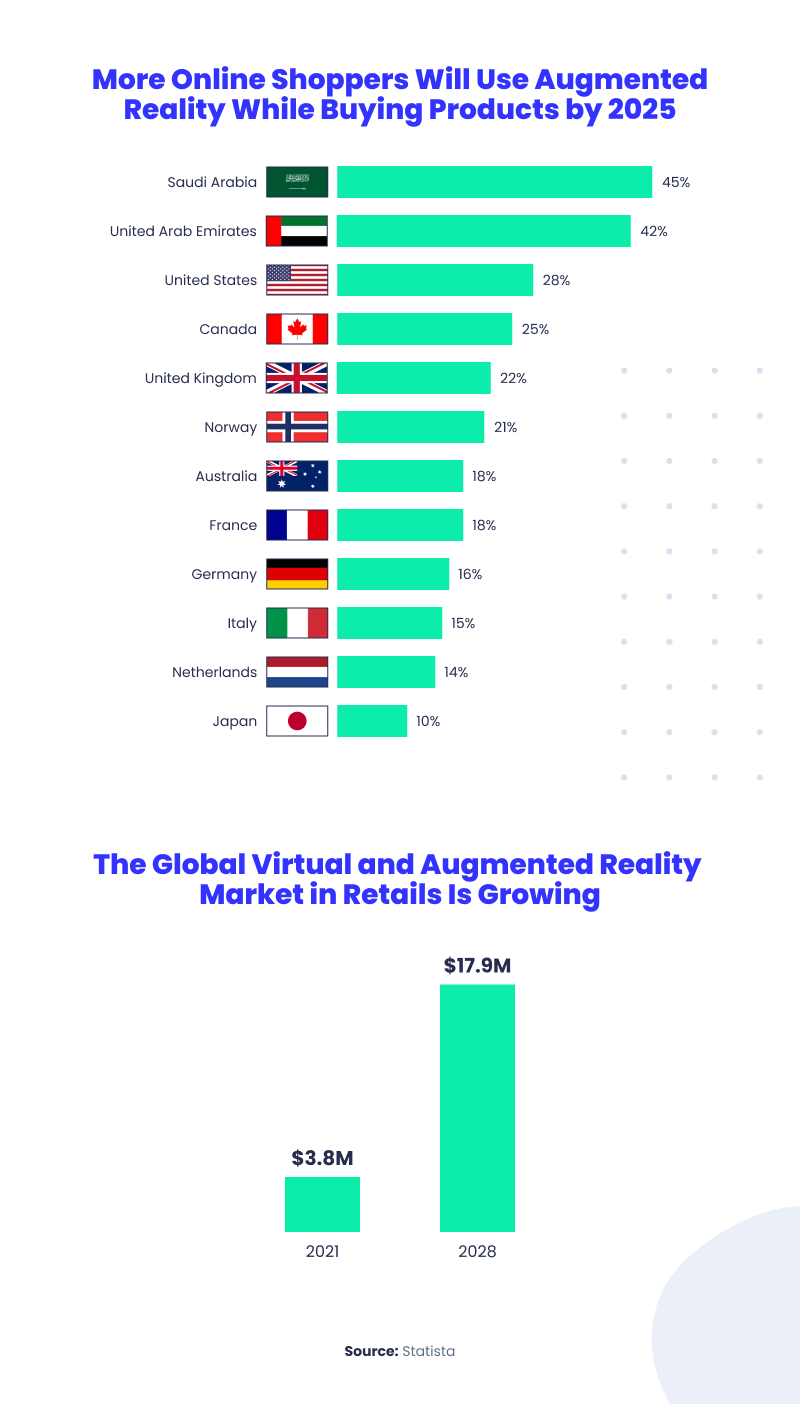 Virtual Reality Shopping
VR technology takes the virtual shopping experience to the next level by immersing customers in a fully digital environment. Customers can use VR headsets to explore the virtual store, interact with furniture items, and experience a simulated physical presence.
These varied approaches and techniques demonstrate how virtual stores provide captivating shopping experiences, offering the same level of engagement and service as their physical counterparts. As the lines between online and offline shopping continue to blur, embracing these innovations becomes pivotal for retailers looking to thrive in the evolving retail space.
The Benefits of a Virtual Shopping Experience for Furniture
Virtual stores hold the key to a multitude of benefits, revolutionizing the way they operate in the virtual world of online shopping.
Boost Sales
By providing customers with the ability to virtually explore and interact with furniture items, you create an immersive shopping experience that captures their attention. This engagement translates into higher conversion rates, ultimately resulting in a substantial boost in sales revenue.
Engage Customers and Differentiate from Competitors
The ability to customize furniture options, visualize them in their own spaces, and collaborate with design experts fosters a deep sense of personalization and real-time connection. These features, part of the virtual store work, enable retailers to distinguish themselves from competitors and leave a lasting impression. It's all about offering more than just a place to shop online; it's about forging stronger customer relationships through innovative virtual storefronts.
Learn More
Learn how
real-time personalization
not only differentiates you from competitors but also leaves lasting impressions, fostering stronger customer relationships.
Increase Customer Retention
When customers feel appreciated and connected to a brand, they're more inclined to return for future purchases. The convenience and personal touch offered by virtual retail stores contribute to customer satisfaction, nurturing loyalty and encouraging repeat business. This isn't just about offering virtual shopping experiences, but also about creating a welcoming virtual world that customers want to revisit.
Enhance Customer Loyalty and Brand Awareness
Through a memorable and engaging virtual shopping experience, retailers can leave a lasting impression on customers. Satisfied customers are more likely to become brand advocates, spreading positive word-of-mouth and attracting new customers. Moreover, the innovative nature of virtual shops positions retailers as industry leaders and innovators, further enhancing brand reputation and visibility.
Utilize Data-driven insights to Optimize Marketing and Sales Strategies
A virtual shopping experience offers a valuable opportunity for furniture retailers to collect customer data and gain insights into consumer behavior. This data-driven approach enables retailers to tailor their offerings, personalize marketing campaigns, and optimize their product offerings based on customer preferences, thereby ultimately driving better business outcomes.
Virtual Furniture Shopping Examples to Get Inspired By
Several furniture retailers have set remarkable examples by offering immersive and innovative virtual shopping store experiences. Let's delve into these innovative approaches and see how they address various aspects, from customer expectations to online conversions, to create a significant impact in the world of e-commerce services.
IKEA
In 2022, IKEA introduced its groundbreaking AI-powered app called IKEA Kreativ. By leveraging spatial computing, machine learning, and 3D-mixed-reality technologies, IKEA Kreativ offers a handy solution for its customers.
With IKEA Kreativ, customers can access a gallery of over 50 3D showrooms filled with IKEA products, combinations, and design ideas, providing a virtual shopping experience that mirrors real life. Additionally, customers can browse the IKEA catalog seamlessly and experiment with product options by easily swapping, moving, rotating, stacking, and hanging items within spatial settings.

To further enhance the personalized experience, IKEA Kreativ offers the Scene Scanner feature. Integrated into the IKEA App and developed by Ingka Group, the Scene Scanner allows customers to create 3D replicas of their own spaces. The app automatically processes and assembles an interactive replica with accurate dimensions and perspective by capturing photos of their rooms. Customers can easily clear the room and fill it with new furniture of their choice. This enables them to fully customize and design their spaces by incorporating IKEA products, providing a realistic and immersive preview of their potential home transformations.
did you know
Just like IKEA's innovative app, Zolak Virtual Showroom brings AI technology to your fingertips
Explore over 100 3D showrooms and transform your customer experience!
Urban Barn
Canadian home furnishing store Urban Barn knows that customers may need guidance and inspiration during their online sessions. To address this, they offer a free Virtual Design Studio, an innovative feature that connects customers with expert design professionals. Customers can receive expert insights, room styling tips, and product knowledge through personalized one-on-one virtual sessions, enhancing their virtual shopping experiences.

To assist customers in visualizing furniture pieces in their own homes, Urban Barn leverages Augmented Reality (AR) technology, allowing customers to try on different furniture items virtually. By using a smartphone or tablet, virtual try on lets store visitors see how different furniture items will look in their space before making a purchase. This feature adds a touch of real life to the virtual shopping experience.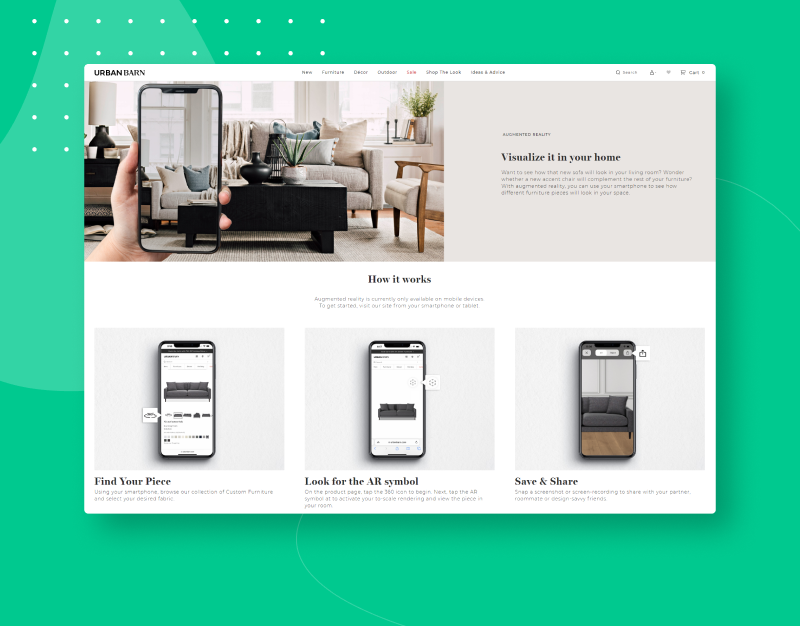 In addition, the Room Design Board tool eliminates the guesswork from home makeovers by providing a visual representation of how various furniture items and accents work together. Customers can mix and match furniture styles, explore wall art options, and play with accent pillows to create captivating combinations of color and texture, meeting even the most discerning customer expectations.
Room & Board
Room & Board breaks the boundaries of traditional furniture shopping by harnessing the power of virtual shopping technology. Through video calls and virtual meetings, their customers can collaborate with designers to create tailored furniture solutions for their spaces. This personalized approach enhances the customer experience, enabling them to make well-informed decisions and complete purchases.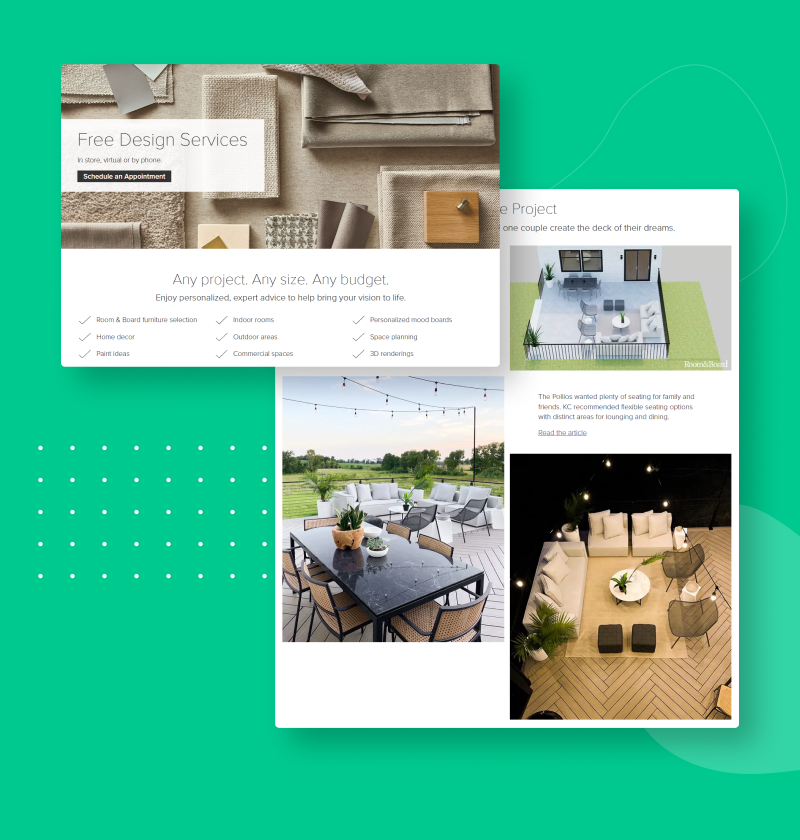 To provide customers with a comprehensive understanding of their furniture pieces, Room & Board leverages visualization technologies. The 360-degree view allows customers to explore products from various angles, gaining a thorough understanding of the design, finishes, and proportions. In addition to the 360-degree view, they incorporated AR visualization, allowing customers to virtually place furniture items in their own space.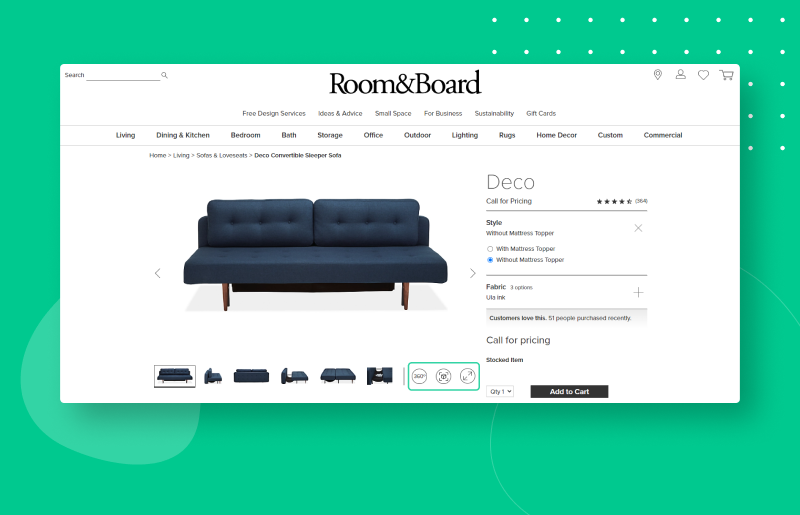 West Elm
West Elm has made significant strides by introducing their innovative Room Planner tool and Virtual Design Consultations.
With the Room Planner tool, users can input the exact measurements of their rooms, enabling the tool to create a virtual space that accurately reflects their own physical environment. Furthermore, the Room Planner utilizes 3D features to explore their virtual space from various angles, allowing them to visualize the arrangement and placement of furniture items with greater clarity.
For personalized assistance, West Elm offers Virtual Design Consultations through their Design Chat tool. Through this tool, users can schedule appointments with the Design Crew to discuss their room design ideas, seek expert advice, and receive recommendations tailored to their preferences and needs.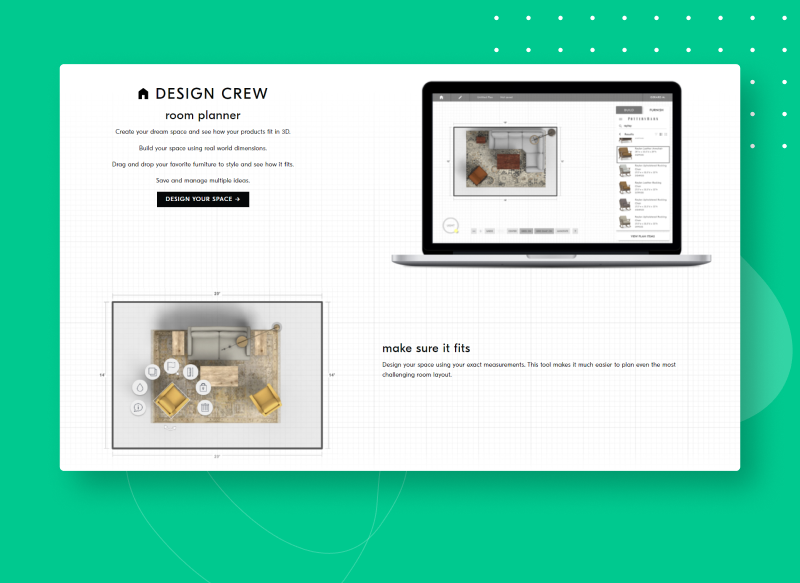 Crate&Barrel
Crate&Barrel stands out by offering The Design Desk, a virtual design consultation service that connects customers with design experts. Through virtual meetings, customers can receive personalized advice and guidance to create their ideal living spaces. This personalized approach ensures that customers' unique needs and preferences are considered, resulting in a more tailored and satisfactory online shopping experience.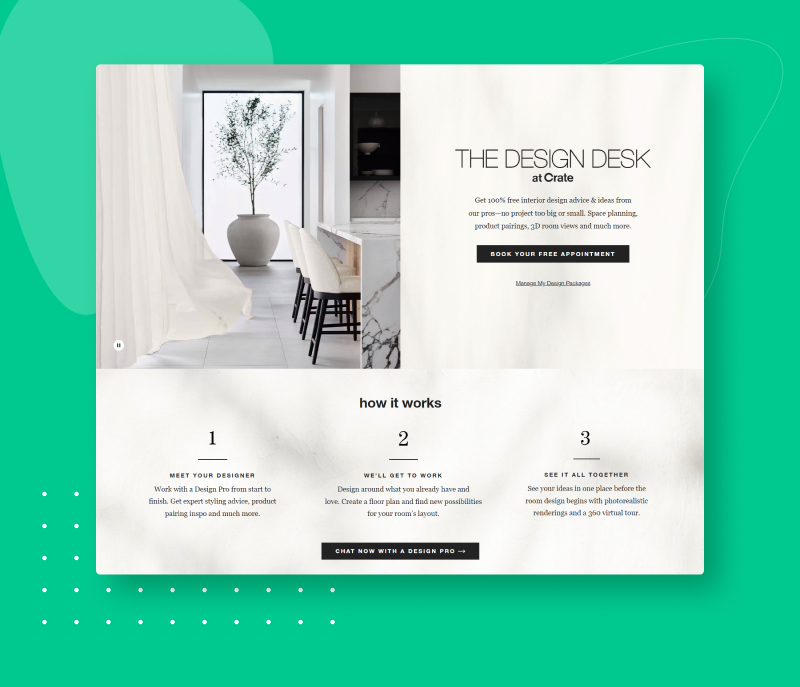 In addition to their virtual design consultations, Crate&Barrel incorporates Augmented Reality (AR) features to assist customers in visualizing furniture in their own spaces. By simply scanning a QR code, customers can use AR technology to see how Crate&Barrel's furniture pieces will look in their specific environment. This feature helps customers make more informed decisions by providing a realistic preview of the furniture's appearance and fit within their space.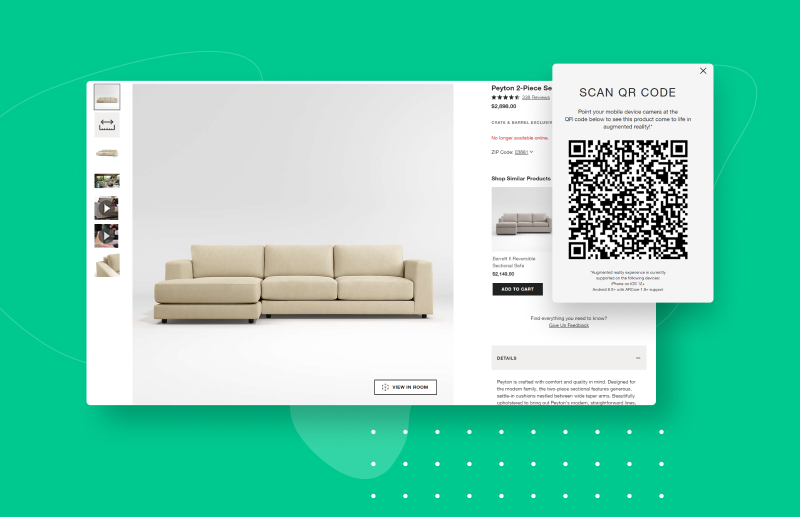 Wayfair
Wayfair, a leading online furniture retailer, has been at the forefront of leveraging AR technology to enhance the virtual buying experience. By harnessing Apple's ARKit, Wayfair has continually pushed the boundaries of AR in ecommerce.
With Wayfair View in Room, online shoppers simply point their smartphone cameras toward a specific space in their home and select a product from Wayfair's extensive online catalog. The AR tool then overlays a 3D digital rendering of the chosen item, such as a table or chair, into the live view of the room. If the furniture piece selected by the shopper doesn't fit the space or align with their envisioned style, the live camera view on their phone will reveal this discrepancy. Another notable advancement in Wayfair's AR experiences is the incorporation of occlusion. With body occlusion, virtual products are rendered realistically, allowing users to walk around and stand in front of the products as if they were physically present in their homes.
In April 2023, Wayfair introduced the Digital Design Studio (DDS). The DDS is an immersive experience that empowers customers to explore Wayfair's extensive catalog by creating 3D furniture arrangements using interactive product cards. At the DDS, customers encounter a kiosk with a glass surface, product cards, and a screen. Placing a product card on the glass surface triggers a photorealistic version of the product to appear in a virtual modern room on the screen. Customers can add more cards, move and rotate them, and witness the virtual scene and screen update accordingly. This interactive experience allows customers to compare seat heights, design room arrangements, adjust lighting with special lighting cards, and customize the background to match their homes.
Amazon
Amazon takes virtual shopping to the next level with its innovative features. One such feature is Amazon Showroom, which aims to answer the crucial question: How will everything look together? Within the virtual room, users have the flexibility to change the color of the walls and floors, enabling them to experiment with different aesthetics and create their desired ambiance. Additionally, they can seamlessly swap out different furniture items, exploring various combinations and arrangements.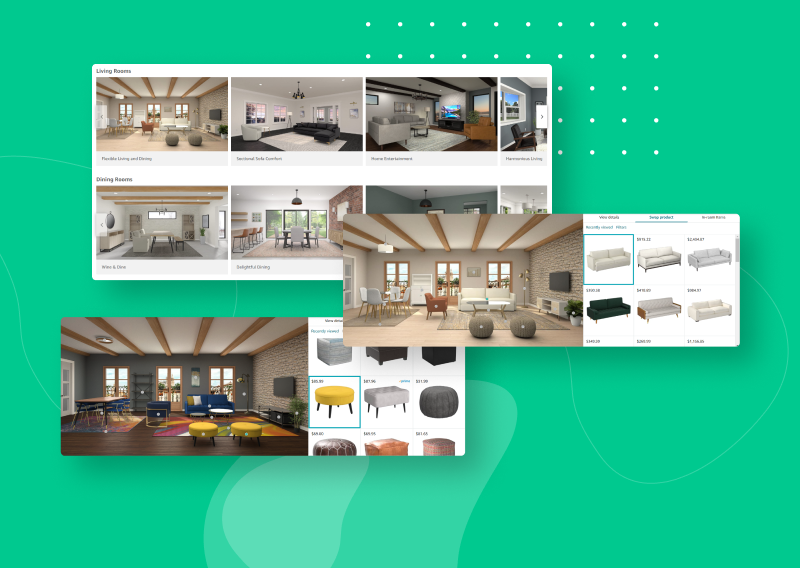 To further enhance the virtual shopping experience, Amazon incorporates augmented reality through its "View in Your Room" feature. Accessible through the Amazon app, this tool utilizes the smartphone's camera to provide users with realistic visualization of a selected product's appearance in their own space. By scanning the room, users can then manipulate the virtual object, moving it around to find the ideal location within the room. The ability to zoom in and out allows for a close examination of product details, while physically standing next to the product and holding the phone provides a sense of its height and width.
Ethan Allen
Ethan Allen introduced the innovative inHome® software, providing virtual shoppers with a seamless and immersive furniture shopping experience. With an extensive catalog of home furnishings organized by category, customers can effortlessly explore and select the products they desire. The app includes powerful tools like the "Create a Scene" feature to visualize products in their space, "Virtual Walls" to experiment with different wall colors, and a "Customize" button to experiment with different fabrics, leathers, finishes, and more.
For customers seeking expert advice and guidance throughout the design process, the app offers a convenient "Contact a Designer" feature. This allows customers to receive professional insights, ask questions, and share room shots for personalized recommendations and support.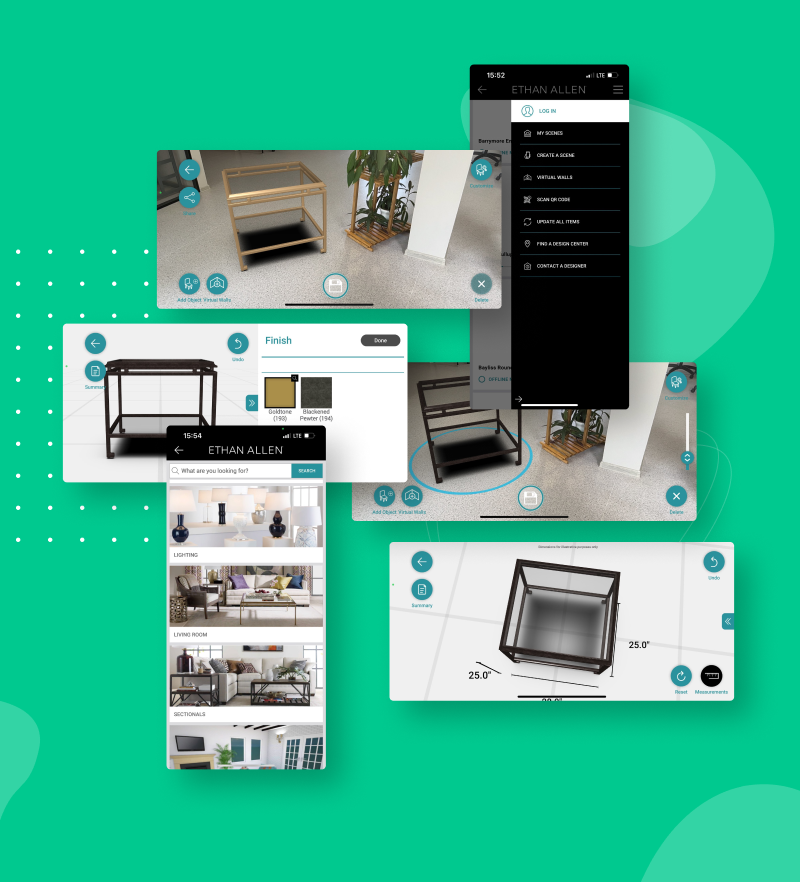 Ready to Create Your Virtual Shopping Experience?
As the furniture retail industry continues to evolve, embracing virtual shopping has become a valuable business strategy for staying competitive and meeting the demands of modern consumers. If you're ready to transform your furniture retail business and offer seamless virtual shopping experiences, Zolak Visual Commerce is the solution you need.
Zolak Visual Commerce is a SaaS (Software as a Service) solution designed specifically for online furniture retailers. It offers a unique and innovative platform that enables customers to have interactive and immersive experiences when exploring furniture options.
With Zolak, customers can engage with your furniture products in interactive showrooms or visualize them in their own living spaces virtually. Here are some key discovery features provided by Zolak Virtual Showroom:
Rotate and move furniture products within the virtual showroom, giving the flexibility to position items at different angles and orientations to achieve the desired visual effect.

360-degree spin to explore the product's design, details, and finishes from every angle.

Swap products to compare different options and see how different pieces fit within the overall design of the room.

Add, delete, and hide products enables customers to easily add furniture items to the virtual showroom to assess their compatibility with the overall design and aesthetic. If a product doesn't meet their preferences, they can simply delete it or hide it from view to refine their selections.

Save and share showrooms with others to seek opinions or input from friends, family, or interior designers.