Furniture Merchandising 101: Features, Stats and Adoption Rankings
Anastasiya Talochka
·
9 minute read
Your store's furniture merchandising is just as crucial as that comfy couch you're selling. In fact, in a world filled with choices, being visually appealing isn't a bonus—it's a necessity.
We did some Sherlock-level snooping into the top 10 furniture brands' websites to uncover the roadmap for merchandising furniture success in the retail environment. Our investigation focused on ten key drivers that these brands have in common. In terms of the findings, we found a shift towards furniture merchandising features that go beyond the transactional, emphasizing the importance of customer engagement and memorable experience.
Now, you may be asking yourself—why bother? Well, in a world where everyone's fighting for attention, it's the memorable ones that win.
Analyzing Visual Merchandising Trends 2023 For Furniture Store
Have you ever wondered why some furniture stores have a magnetic pull, attracting customers effortlessly, while others struggle to keep the customer flow steady?
In 2021, consumer spending on furniture and appliances skyrocketed by a jaw-dropping 81%, according to Comscore Digital Commerce Measurement. Furniture was among the top three categories driving this digital commerce boom.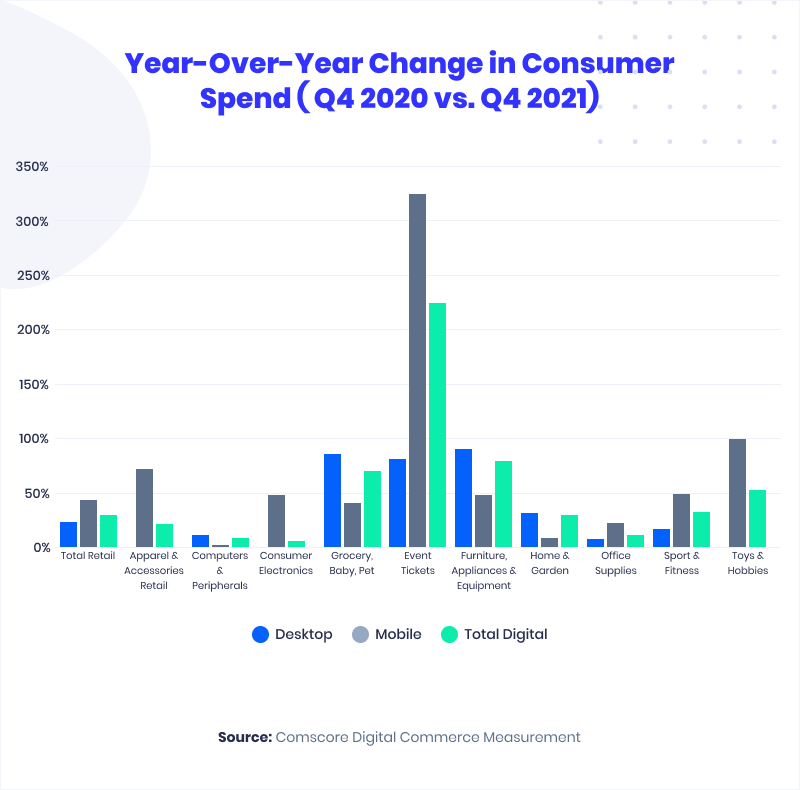 Unlike in the past, where online browsing often resembled window displays, today's digital consumers, especially in the furniture sector, are poised for action. Searchmetrics data reveals that a significant 62.3% of searches in the furniture domain are transactional, indicating a high intent to purchase. What's more fascinating is that the surge in online shopping is not confined to digitally native customers alone.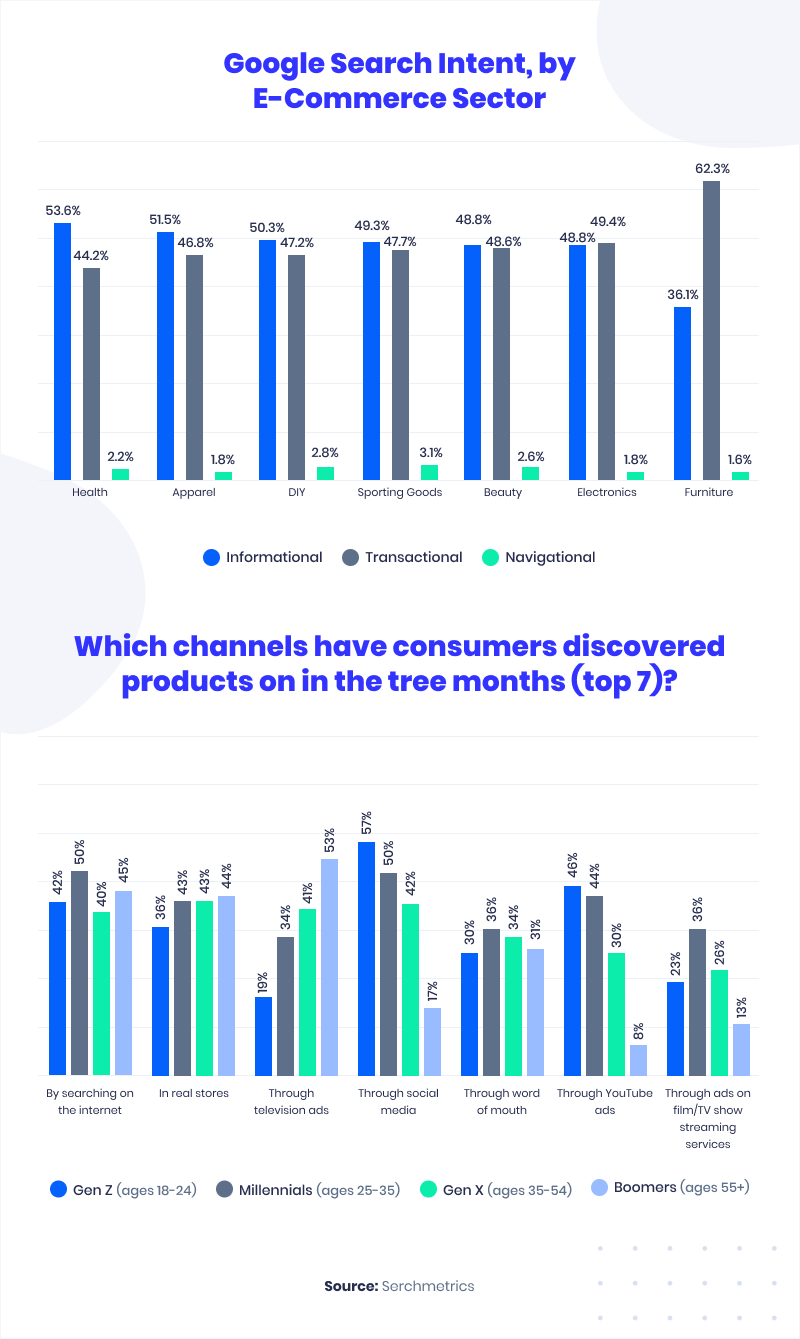 This behavioral shift underscores the vital role of furniture store merchandising. Your store's layout and design are your silent salespeople. They speak volumes to your customers, shaping their perceptions of your products and brand.
The key takeaway is clear: invest in rich e-commerce merchandising features to future-proof your business. These features not only facilitate conversions but also crucially build trust, thereby increasing sales.
The forward-thinking players in the furniture retail industry have already recognized this reality and are aligning their strategies accordingly. Are you?
Furniture Customization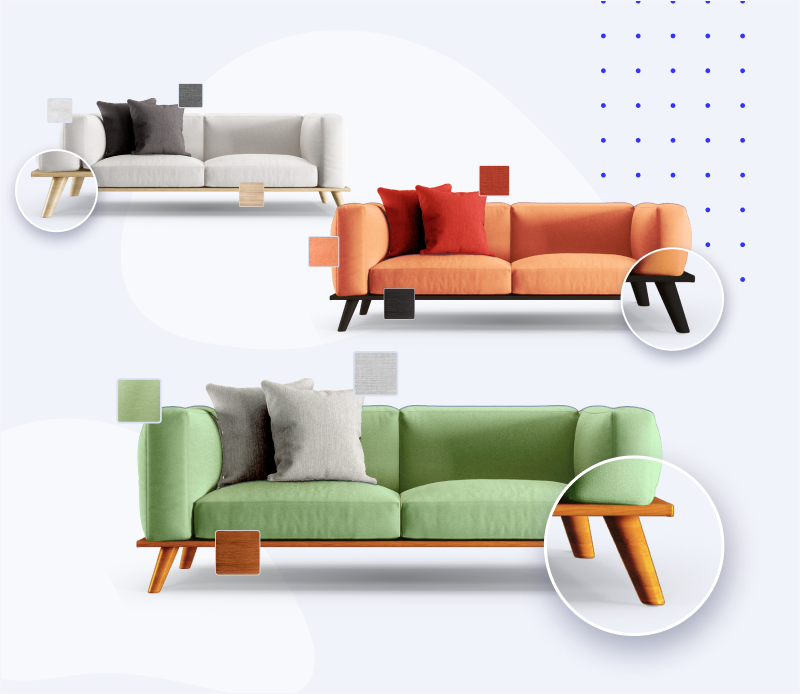 Driven by a strong desire for personal expression, customization has become a top priority for furniture retailers. Deloitte's data reinforces the significance of furniture customization. A substantial 42% of customers express interest in personalized furniture, with a noteworthy one in five consumers willing to pay a premium of 20% for a product that is tailored or exclusive to them. This consumer sentiment reflects a growing appreciation for the value that customization brings to the shopping experience.
The good news is that modern technology is a key enabler, making product customization and a personalized customer experience easily accessible from the product pages. Through intuitive interfaces, customers can effortlessly combine colors, fabrics, finishes, and other details with just a few clicks, empowering them to curate a space that truly reflects their unique tastes and preferences.
100% Adoption Rate

Every single one of the top retailers we meticulously analyzed has integrated a configurator for product customization on their product pages. This unequivocal trend signals a pivotal moment in the retail landscape, with store owners unanimously prioritizing investments in features that elevate the online shopping experience, and at the forefront of this movement is the spotlight on product customization.
Learn More
Discover how
ecommerce product configurators
are revolutionizing the landscape for furniture retailers. In this insightful exploration, we delve into the challenges faced by online shoppers, examining the universal experience of buyer's remorse and its impact on purchasing decisions.
Zoom In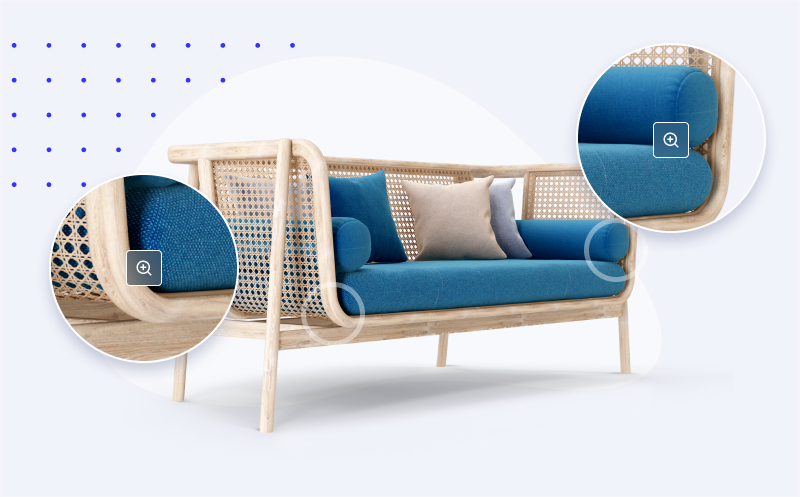 Baymard's usability testing underscores the significance of visuals in the online shopping journey. To put this into perspective, a striking 56% of users start their exploration of a product by delving into product images upon landing on the product page. Unfortunately, subpar visuals and an inadequate zoom feature often lead to product page abandonment, emphasizing the critical role of these elements in user experience.
Another UPS research reveals that a staggering 70% of users consider the zoom tool a prime factor when making their purchase choices. This rings especially true in the realm of home furnishings, where the intricate details of products can significantly influence buyer confidence.
100% Adoption Rate

Our research demonstrates that 10 out of 10 furniture brands analyzed recognize this imperative and have integrated a zoom feature on their product pages. As brands prioritize these elements, they not only meet user expectations but also foster confidence, ensuring that the digital exploration of furniture rivals the tactile experience of a brick-and-mortar store.
3D Furniture Models and 360-Degree Views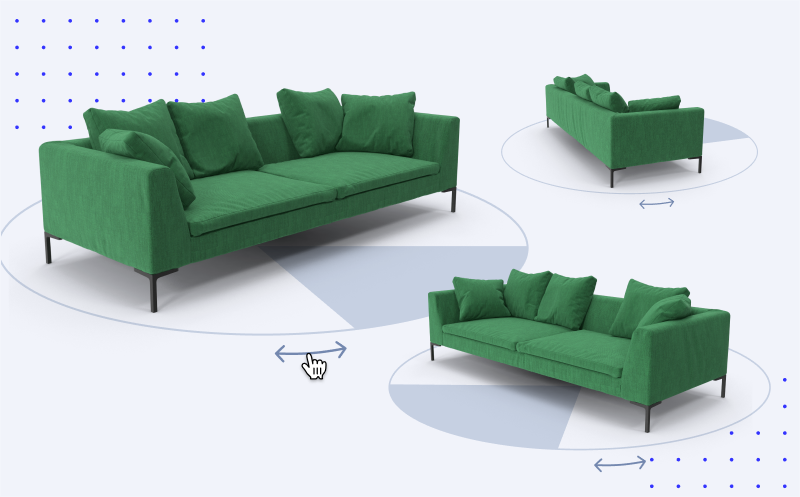 In recent years, online furniture shopping has undergone a remarkable transformation, with 3D product displays emerging as a powerful tool to enhance the customer's understanding of their potential purchase. The importance of a superior visual experience is magnified in the absence of tactile engagement, and the impact is substantial—Google reports a 50% increase in engagement with 3D images of home goods compared to static ones.
Adobe's data emphasizes this desire for interactivity, revealing how 91% of individuals want the capability to rotate products in a full 360-degree spin.
Unlike traditional photography, investing in high-quality 3D models provides versatility for various use cases, including augmented reality, room planning, virtual staging, and marketing campaigns.
50% Adoption Rate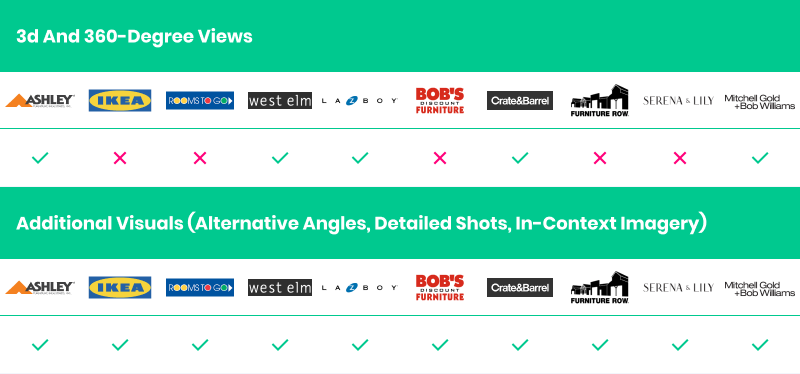 Despite its effectiveness, our research reveals that 5 out of 10 furniture brands have embraced 3D/360-degree product configurators on their websites, leaving a significant gap in industry adoption. On the other hand, all 10 brands excel in providing alternate angle images, detailed shots, and in-context imagery on their product pages, showcasing a broader acceptance of additional visual elements.
While alternate-angle images and detail shots enhance the visual storytelling, they inherently come with limitations. This is because they provide a fixed view and fail to replicate the immersive exploration that a 360-degree view offers.
Augmented Reality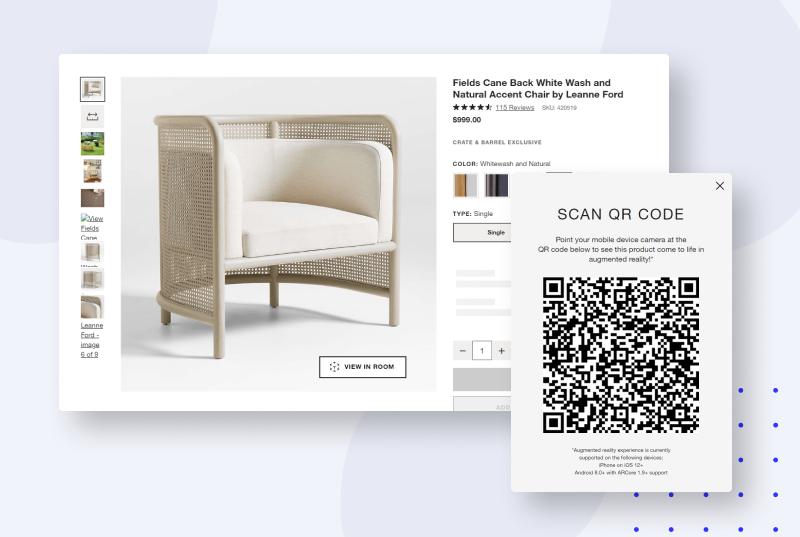 A study by Magna Media Trials highlights the substantial interest in AR, with 85% of respondents expressing a keen interest in using AR for furniture shopping.
Leading furniture players are at the forefront of this technological shift, introducing AR solutions that allow customers to virtually place furniture items like sofas, tables, and chairs into their own homes. This immersive experience enables customers to "try out" furniture, thereby alleviating concerns about making the wrong decisions and significantly easing the weight of purchasing decisions.
With heavy investments from tech giants like Google and Apple, augmented reality is poised to become an even more ingrained part of the online experience. Advances in room scanning and the rendering of photorealistic 3D assets will further enhance the capabilities of AR.
50% Adoption Rate
Despite the hype, only half of furniture brands have embraced AR solutions, hinting at hurdles slowing its widespread adoption.
While AR apps have gained traction, our research suggests a shift towards web-native AR as the new normal. Downloading a separate app for occasional furniture purchases may prove cumbersome for customers, emphasizing the preference for effortless options. As technology evolves, web-native AR experiences are poised to replace mobile AR apps.
Learn More
Understand the business sense behind AR. Explore how AR can lead to significant cost savings and fewer returns, empowering customers to make more informed decisions.
Virtual Showrooms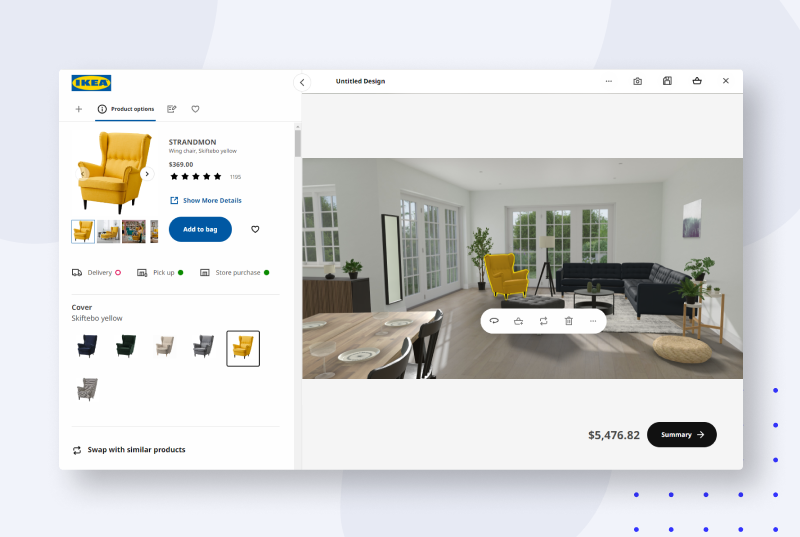 Virtual showrooms encourage customers to explore furniture products in virtual spaces or visualize them in their living areas—which is an intuitive, immersive, and inspiring design journey.
A Klarna Online Survey highlights strong consumer interest in the try-before-you-buy model, with 37% of online shoppers favoring it over traditional payment methods. Moreover, 71% would use this payment method if offered, and 69% are likely to buy more from online merchants providing this option.
Using the camera, customers can scan their room and see how furniture items fit into their personal space. They can seamlessly search for items in the catalog, place them in their room, and easily swap related items or change colors to find the perfect combination. Once satisfied with their design, they can easily add items to their cart and make online purchases.
The virtual showroom ensures that their design is translated into a photorealistic 3D image at scale, allowing them to see exactly how the pieces will fit in their home.
10% Adoption Rate

For the 10% of furniture brands that have adopted virtual showrooms, the benefits are likely substantial. These brands recognize the power of immersive design experiences in inspiring customers, streamlining purchases, and providing a unique and competitive edge in the market. The remaining 90% of the industry may be assessing challenges associated with integrating virtual showrooms, such as implementation costs, training, and potential resistance to change. However, these challenges present opportunities for innovation and differentiation in a competitive market.
Product Information Detail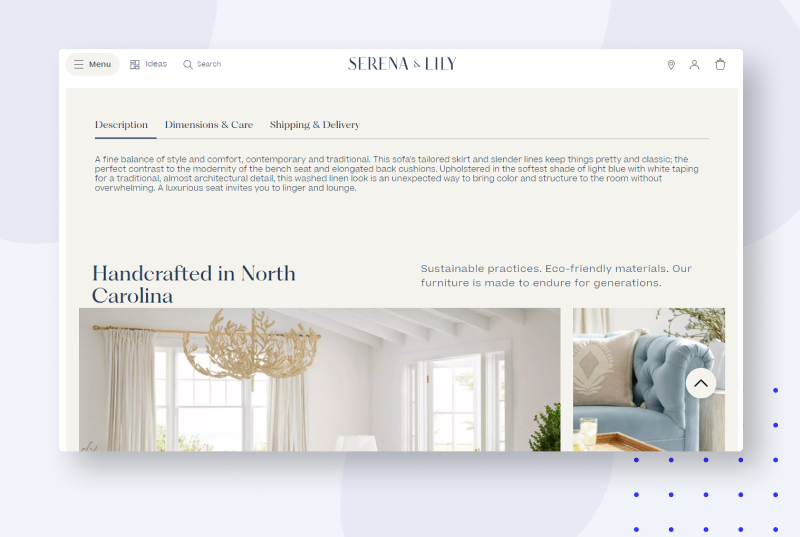 Answering customer questions through comprehensive information is the key to unlocking more "add to cart" clicks. The inclusion of essential details ensures that customers have the information they need to make informed decisions, particularly in the context of significant purchases such as furniture.
Research from Salsify highlights that 70% of consumers cite a lack of product information as a reason for leaving an e-commerce site. For big-ticket items like furniture, specific details, including product description, delivery information, and return policy, become critical factors influencing customer choices.
100% Adoption Rate

Our research reveals that all 10 furniture brands analyzed have successfully incorporated sufficient information on their product pages. This industry-wide commitment to providing comprehensive details underscores the recognition of the pivotal role that information plays in facilitating customer decisions.
Reviews
According to data from BrightLocal, 49% of consumers trust online reviews as much as personal recommendations. This reliance on reviews is amplified when considering big-ticket purchases, as revealed by eMarketer, where online ratings and reviews are consulted more frequently than word of mouth, in-store sales associates, or social networks.
The lack of reviews on product pages can be a decisive factor for customers. For instance, Stackla reports that 58% of consumers have abandoned e-commerce sites due to a lack of customer reviews or photos. Furthermore, Trustpilot highlights that 62% of consumers would avoid buying from brands that censor online reviews.
Responding to negative reviews presents an opportunity for positive outcomes. Statistics indicate that when companies respond to negative comments, 33% of customers turn around and post positive reviews. Additionally, 34% delete their original negative reviews, showcasing the potential for reputation recovery through proactive engagement.
70% Adoption Rate

In our research of 10 furniture brands, 7 have integrated reviews into their product pages. This highlights the industry's recognition of the pivotal role reviews play in influencing customer perceptions and purchase decisions. Furniture brands must embrace and actively manage reviews, recognizing them not only as crucial decision-making anchors but also as opportunities to draw customers in, build trust, and shape positive brand narratives.
Mobile Optimization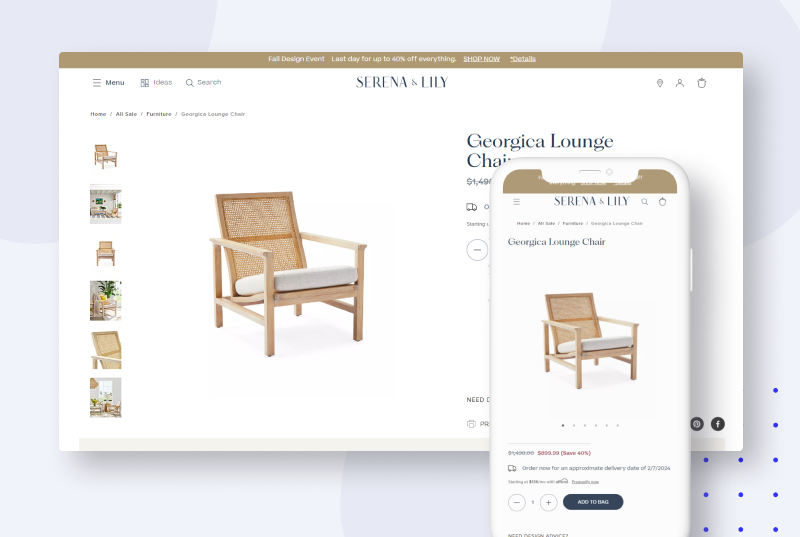 With 86.29% of the world's population owning a smartphone, mobile optimization has become a non-negotiable element for success. The exponential growth of smartphone users underscores the critical role of mobile devices in the omnichannel shopping experience.
However, merely having a mobile-responsive website is no longer sufficient for furniture brands aspiring to stay competitive in the market.
According to eMarketer, retail mobile commerce (m-commerce) sales are projected to account for 43.4% of total retail e-commerce sales in 2023, a rise from 41.8% in 2022. This trend emphasizes the increasing reliance of buyers on mobile devices for their shopping needs, making it imperative for online furniture stores to offer user-friendly and well-designed mobile websites.
100% Adoption Rate
All furniture store owners analyzed in the article have embraced mobile optimization, achieving a 100% adoption rate. This signifies a universal acknowledgment among furniture brands that the mobile experience is not merely an option but an indispensable component of their overall strategy to meet the evolving expectations of modern consumers.
Product Page Speed Index
Research from Portent underscores the critical nature of the first five seconds of page load time, indicating that conversion rates experience a notable drop of 4.42% with each additional second of load time. This phenomenon makes page load speed a pivotal element in influencing target audience actions and, ultimately, conversion rates.
Unbounce reveals how nearly 70% of consumers acknowledge that page speed directly influences their purchase likelihood. This places the page loading speed as a decisive factor in the customer's journey.
Google, the arbiter of all things digital, highlights a crucial fact— a modest 0.1-second enhancement in mobile site speed triggers a remarkable 8.4% increase in sales for the retail sector. Yes, it's the speed boost that transforms hesitant clicks into confirmed purchases.
100% Adoption Rate

Using Google's Page Speed Index, our evaluation reveals that all 10 furniture brands assessed have load speeds above the 3-5 seconds benchmark. This highlights a glaring gap and emphasizes the urgent need for brands to prioritize mobile optimization. Failure to meet this expectation can lead to a poor user experience and potential loss of customers.
Checkout Experience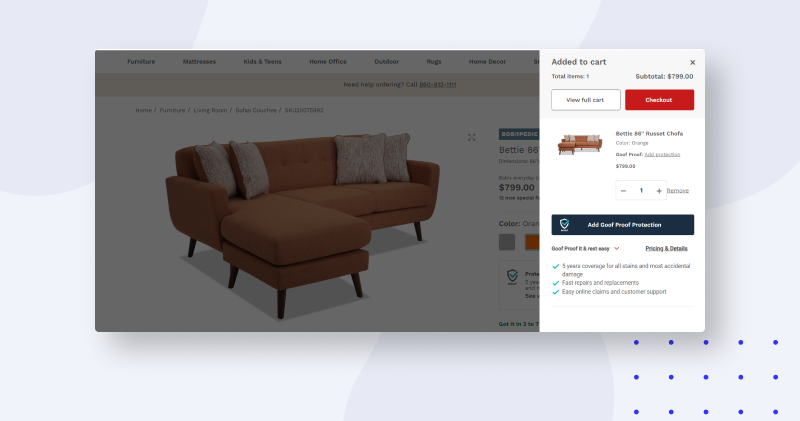 The checkout process, marking the culmination of the customer journey, is the critical juncture where efforts translate into successful transactions. However, it's also a potential stumbling block that can lead to cart abandonment. Addressing the challenges associated with the checkout process is crucial for furniture brands to enhance conversions and minimize lost sales.
Baymard's data reveals that two of the top five reasons for cart abandonment are directly linked to the checkout process—lack of a guest checkout option (24%) and a lengthy, complicated process (18%). Notably, the cart abandonment rate in the Home & Furniture category reached a substantial 80.99%, emphasizing the significance of optimizing the checkout experience in this industry.
80% Adoption Rate

Our research shows that 8 out of 10 furniture brands have successfully crafted a pleasant checkout experience in their retail space. This commitment to optimizing the checkout process showcases an industry-wide understanding of the pivotal role it plays in ensuring successful transactions and customer satisfaction.
Conclusion
Amid macroeconomic uncertainties, furniture businesses are split between those waiting on the sidelines and those swiftly reshaping their capabilities. The article underscores the necessity for proactive measures to futureproof your store and enhance resilience in the face of evolving market dynamics.
This comprehensive report serves as a roadmap for furniture brands and visual merchandisers, offering valuable insights and actionable strategies to navigate the ever-changing landscape of furniture e-commerce and position themselves for sustainable growth.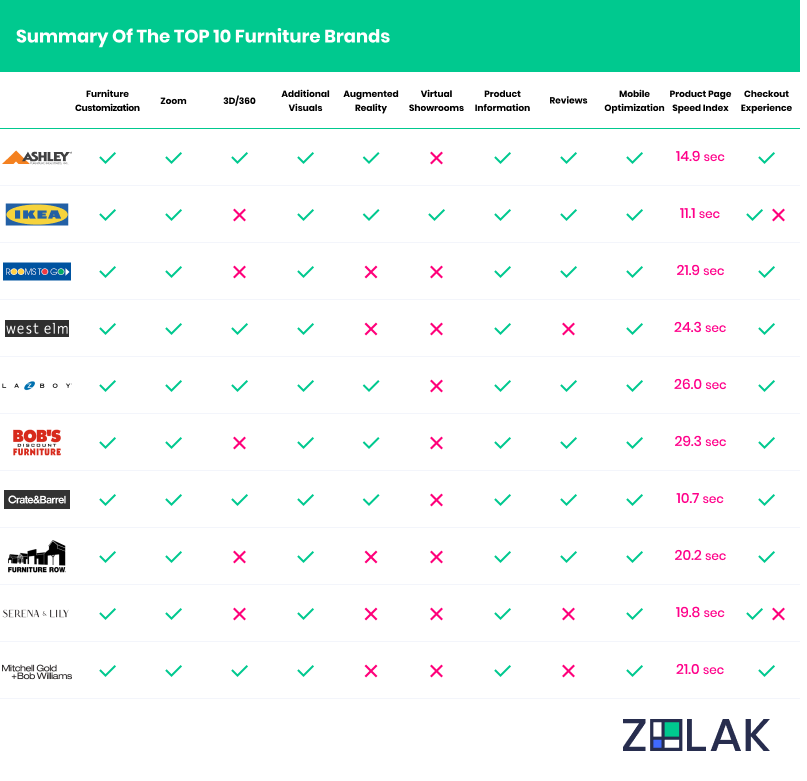 Incorporating these visual merchandising tips and furniture display ideas into your store can enhance the shopping experience, showcase your products effectively, and ultimately drive sales.
Zolak: Your Partner for Furniture Store Visual Merchandising
Zolak stands as the go-to 3D product visualization platform, acting as the catalyst that propels delightful shopping experiences. Functioning as your trusted visualization guide, we are committed to delivering the ultimate experience.
Customization: Empowers retailers and brands to offer customers an unparalleled level of customization, ensuring each shopper finds the perfect fit.

Zoom In: Allows users to zoom in on products textures and materials, providing a close-up view that enhances the shopping experience and leaves no feature unnoticed.

360-Degree Views: Enables customers to enjoy a comprehensive view of your products from every angle with our dynamic 360-degree feature.

Virtual Showrooms: Online furniture retailers can create interactive 3D spaces on their websites, empowering buyers to explore, combine, and visualize furniture in pre-designed virtual rooms or their personalized digitized spaces
As your visualization partner, we ensure a seamless journey, guiding you from onboarding to platform setup. Zolak is committed to making your e-commerce experience extraordinary.