Zolak Virtual Showroom for Furniture Retailers: From Clicks to Sales
Anastasiya Talochka
·
3 minute read
Let's get straight to the point, no more fluff, and certainly no more half-hearted solutions. Zolak Virtual Furniture Showroom offers a groundbreaking platform that speaks your language, which includes results, performance, and tangible impact. In short, we are not here to impress; we're here to empower.
At Zolak, we understand the challenges of running an online furniture store. The struggle to provide customers with the true essence of your products, the uncertainty of whether a piece will fit in a space, and the limitations of static images or even the absence of product images – we get it. That's why we've created Zolak Virtual Showroom, a solution designed to bring your furniture offerings to life in ways you've never imagined.
So, What's Zolak All About?
Zolak is a groundbreaking Software as a Service (SaaS) solution for furniture retailers poised to redefine the very essence of the shopping experience.
At the heart of Zolak lies revolutionary Artificial Intelligence (AI) that breathes life into your online furniture store. Our cutting-edge AI-driven visual commerce solutions empower you to create interactive showrooms within your website. It's a virtual journey into the realm of 3D shopping – an immersive, captivating, and incredibly engaging realm.
Key discovery features within the Zolak Virtual Showroom
Rotate and Move: Imagine having the power to do more than just look at furniture. With Zolak, your customers can rotate and move furniture pieces within the virtual room. Experiment with different angles and orientations until they achieve that perfect visual effect that makes them go, "Yes, that's it!"

360-Degree Dive: No more squinting at pictures and trying to imagine how that sofa looks from behind. Zolak brings you the 360-degree spin feature, where customers can explore every inch of the product's design, details, and finishes.

Swap and Compare: Customers can't decide between that cozy armchair or the sleek loveseat? Zolak lets them swap products like a pro. This allows them to effortlessly compare different options and watch as their choices transform the room's design seamlessly.

Add, Delete, and Hide: Customers can add, delete, and hide furniture items, providing a seamless way to assess compatibility, refine selections, and perfect their envisioned space.

Showcase and Collaborate: Zolak Virtual Showroom lets users save and share virtual spaces, inviting opinions and insights from friends, family, or design experts.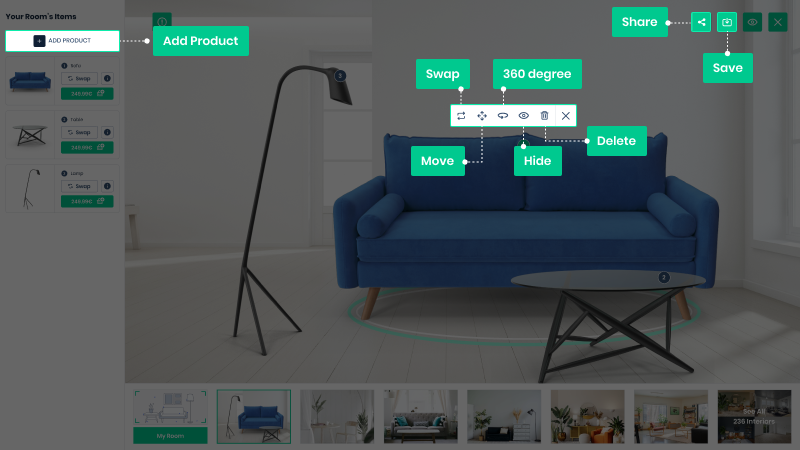 Empowering Customer Discovery
Mixed Reality Showrooms: Access a gallery of a hundred pre-designed 3D virtual showrooms that set the stage for your furniture collection. And there's more – you can create your own photorealistic 3D showrooms that scream your brand's uniqueness. With Zolak, customers can play interior designer without breaking a sweat. They can swap products, mix, match and create their unique dream setup.
Personalized Space Design: Customers can design their own spaces by photographing their rooms using mobile devices. In turn, Zolak's AI prowess transforms these photos into interactive replicas, accurately reflecting dimensions, perspectives, and lighting. The virtual image serves as a dynamic showroom – a space to add, remove, and rearrange furniture items and explore design possibilities.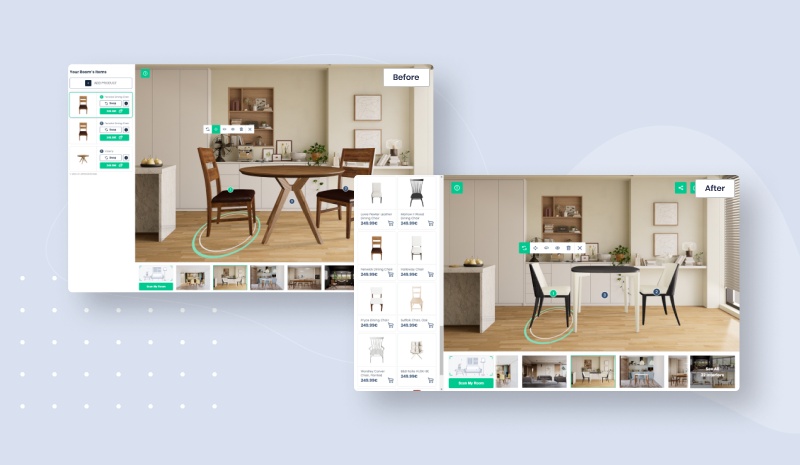 Empowering Your Store
Cost-Efficient Imagery: Cut back on photography expenses by replacing traditional static photography with interactive content. Zolak's dynamic approach mitigates costs linked to photographers and studios while amplifying visual impact.

Beyond Visual Limits: Zolak ensures comprehensive views of your products from all angles, thus capturing every detail with unparalleled precision.

Dynamic Showrooms, Seamless Updates: Flexibility takes center stage with Zolak. Swiftly update your showrooms to feature the latest products, ensuring your virtual spaces remain in sync with your inventory.

Elevated Sales, Enhanced Engagement: By featuring multiple products in one scene, Zolak increases the potential for complete furniture sets, elevating average order values and driving sales.

Easy integration: We understand that your existing infrastructure matters. That's why Zolak easily integrates with your systems, ensuring a smooth transition into a future of innovation.
Distinctive Features
More than a Paint Swap: Zolak goes beyond merely changing wall colors. It lets customers envision different furniture items within diverse room settings, thereby empowering confident decisions.

Reality in Every Pixel: Zolak's commitment to precision, perspective, and detail ensures realism. Whether pre-designed or personalized, Zolak's virtual spaces mirror reality down to the smallest element of lighting and shadow.

A Step Beyond AR: Ever come across the "View in AR" feature? Zolak goes further. Our AI and neural networks seamlessly integrate virtual furniture into customers' spaces, adapting to dimensions, lighting, and even perspectives.

Complete Room Transformation: Unlike competitors, Zolak replaces entire room settings. Witness seamless room metamorphosis as customers switch furniture pieces, transforming their spaces effortlessly.

Easy Implementation: Zolak's swift and simple integration through web widgets and mobile SDKs ensures smooth implementation for online retailers.
From Monologues to Dialogues: Let's Connect
Zolak Virtual Showroom revolutionizes the furniture retail landscape by offering customers an interactive, immersive experience while empowering retailers to optimize product presentation and sales. By aligning seamlessly with current industry trends and leveraging cutting-edge technology, Zolak bridges the gap between imagination and reality. This innovative solution ushers in a new era of informed decision-making, enhanced customer engagement, and elevated profitability for furniture retailers. To explore the possibilities of Zolak Virtual Showroom, reach out today and embark on a journey to redefine furniture retailing in the digital age.
Our experts are primed to guide you from the early stages up to implementation. Step into a future where furniture isn't just viewed – it's experienced!